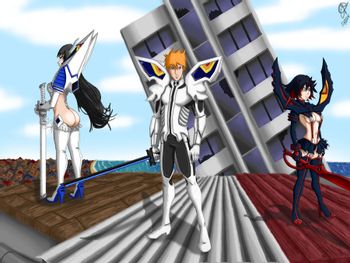 A while has passed since Ichigo Kurosaki sacrificed his spiritual powers to put an end to the Big Bad's plans. Utterly spent, Ichigo settles down into what appeared to be a life as a normal human for once, with nothing even remotely supernatural about to kill him. As summer vacation approaches and he thinks about what he's going to do, his father reveals that he's been signed up for the prestigious Honnouji Academy for the next school year, without asking Ichigo if he wanted to go or not.
After being forced to throw a going away party, Ichigo finds out that Urahara requested his presence at his store, Upon reluctantly coming at Kisuke's behest, he receives a call from the shopkeeper, who tells Ichigo that he's being chased by a ditzy blonde child with a hankering for pink and urges him to recover the project that he's been working on for a while now - a Kamui.
This Fanfic is a Crossover between Bleach and Kill la Kill, written by BahamutReishiki
. As of Jan 28, 2018, it is now complete.
The story can be found here
. Now has a character sheet.
---
Tropes for "To My Death I Fight":
---