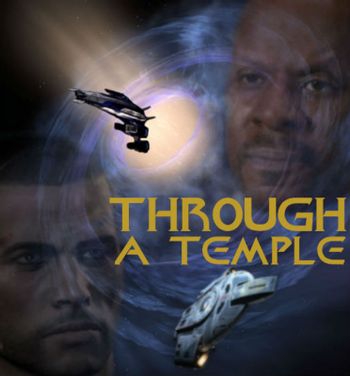 Through A Temple
is a Mass Effect and Star Trek: Deep Space Nine Crossover fic written by Desert Chocolate (Who also wrote Hunters of Death, Adorable Murderbeasts, and Saiyan In Brockton).
After the events of the Citadel DLC, Commander Mikeal Shepard decides to take his friends on one last joy ride through space. All his crewmates, former and current, agree. While doing this, they get a distress call, and end up rescuing a ship full of N7 "Multipliers" and their allies (i.e.: Multiplayer Characters,) only to be sent through a wormhole by a Reaper attempting to send Shepard somewhere he won't be able to do harm.
At the same time, in another universe, the Defiant is flying away from the planet Gaia after the Children of Time event, only to see a strange ship appear from a red wormhole to be attacked by Dominion soldiers. One round of violence later, the Prophets present a plan: Sisko will still defend Bajor, while Shepard deals with threats a little more proactively. In return, they will send the Normandy and its warriors home no later than they left.
The story is primarily about the Normandy Crew and Deep Space Nine crew getting used to each other, and gearing up for the fight against the Dominion. Both groups have things to learn from the other, and both are given their time to shine.
Posted on Fanfiction
as well!
---
This fanfic provides examples of the following tropes: