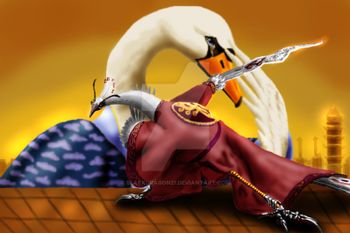 The Vow
is a Kung Fu Panda fanfic by DONOVAN94 that features Lord Shen paired with an OC.
The story is set both before and during the second movie. Shortly before Shen's Start of Darkness, Lady Lianne, the swan daughter of the rulers of the Shēnghuó Province, is sent to live in Gongmen City with the peacocks for a year to be courted by Shen. While both of the young nobles are initially less than comfortable about the affair, over time they form an unlikely bond. The deadline isn't even reached when they become officially engaged.
Unfortunately, the seeds of darkness lay deep within Shen's soul. They lead him to lose his home, status and fianceé in an effort to change his destiny. Still, even after thirty years, he won't give up his goals to make a name for himself. And Lianne, who becomes Gongmen City's ruler after Shen's parents pass away, plays a role that may or may not change Shen's fate.
Alicia Donovan
has also posted in YouTube a trailer titled Lord Shen Fanfiction Trailer
.
Official Description: Shen's story began when a swan, Lady Lianne, came to Gongmen City, as his intended bride. When she arrives, things are not as perfect as they seem, however. But for better or for worse, Shen will not be swayed from obtaining what he wants, and Lianne will unknowingly lead him towards his destiny: either into the light of redemption, or further down the path of darkness.
Not to be confused with a movie with the same name. Or a documentary TV series by HBO.
---
The Vow provides examples of:
---