"One could say that this person is going to get involve in a grand expedition."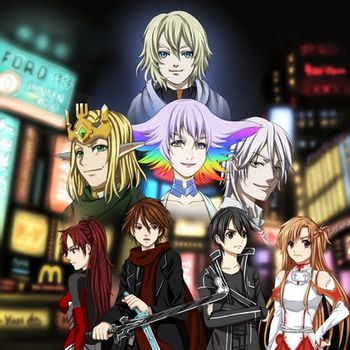 Shinnen:New Year
is a Guilty Crown Mega Crossover co-author fanfic by Ford1114
and Kanius
of their personal take being set years after the anime. This special '23rd episode' is about the canon versions of Shu, Ayase, and Tsugumi meeting new people such as their Guilty Crown: The Lost Kingdoms counterparts and the Magical Girls, while there are many subplots to celebrate New Years Eve in Manhattan. However, when Da'ath makes their return with their own Legion of Doom, it's up to the heroes and villains teaming up to stop then, while the canon!Shu confronts his past for his salvation.
This is also taking place in Kanius Production Abridged as the fourth story, where these corners have parodied what its like for the crossover characters to have parties. The main fanfics that are use in this shared universe are YuYuGiDigiMoon, Digimon Fusion Kai, and Digimon Accel Stream. However, Shinnen:New Year stands out as a sophisticated special with grimmer situations, despite retaining the same tropes. It is also served as the series finale to that fanfic franchise.
This fanfic provide examples of:
Then Zeed X alongside Canon!Mana Ouma shows up in the endgame in making things much dire

.
Legion of Doom: Da'ath makes its return with antagonists from various works to join their side.
Serial Escalation: This crossover is jam-packed with action and plot twists in a greater scale.
Take That!:

In Chapter 2, the LK!Guilty Crown characters talk about how the actual anime have mix receptions with the audience and the YYGDM characters shunned Canon!Shu. This shows some payback at the inconsistent writing Guilty Crown has, though it still saddens for our main character (which takes it much further at the end of Chapter 19).
Chapter 9 has Linkin Park songs heard during the Dragonball and Naruto scenes, indicating how the music band is so overused back in the early days of anime fandom and AMVs. Minako's rant on Sasuke and the Naruto franchise in general connects the authors' interest on Naruto fades since their mindsets have change, it's also to remind how the fanbase is so flawed.
Chapter 31. They have Superman from DEATH BATTLE! killed by Inkarnierte Mana as making fun of its fanboys. And also,

Sasuke killed gives the middle finger to Naruto flashbacks

.

Valkyries: They are involved in the conflict by helping the united forces.
Where It All Began: As a fan of the anime, Ford1114 culminates his contributions going from his AU retelling to his focus on the canon continuity.
---