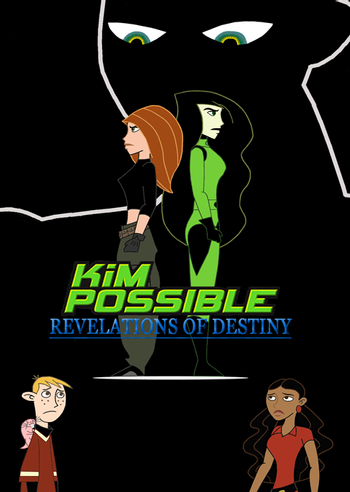 Revelations of Destiny
is a Doorstopper length Kim Possible fanfic that follows Kim's personal journey as she goes through some fundamental changes and discovers the truth about herself, and where she came from. The story has been in-progress for over four years, and shows no sign of ending any time soon.
The story begins In Medias Res, with a brief overview of how much Kim has changed in the last three months, as seen from the perspective of Ron and Monique. Monique corners Kim the next day, and the next seventeen chapters detail How We Got Here.
As it turns out, Kim's life has turned a little crazy. She's taken an "internship" (at least that's what she told her parents) for a company called Corsair International, under the tutelage of a woman called Corscan Mataii. On top of being a 27 year old CEO in an industry where that's all but unheard of, she is also considerably skilled in the ultimate style of martial arts, known only as [The Way]. She has been teaching Kim the skills she needs to begin learning the style, as well as entering into a more... personal relationship with the teen hero in a way that takes Kim an entire morning and most of the afternoon to explain.
But that's not the weirdest of Kim's problems, nor is it entirely the source of the insane stress that's caused her to have a much looser grip on her temper than ever before. That honor belongs to the one person she never imagined she would think about in the way she's started to: Shego.
The story is notable for its insane devotion to even the most minute details, as nothing about the setting or the characters' daily lives is skipped in the interest of getting to the "good parts." Everything is thought out to a nearly obsessive level of detail, and the characterization is handled in a way that makes sense and is actually believable, unlike many other stories of its ilk.
Also, the story gets very, very NSFW after chapter nine, so don't read it if you're easily offended. If you can handle it, however, the story is a truly amazing piece of fiction that demands to be read.
The author has compiled a few reference materials here
, and another artist has drawn quite a bit of fanart for the piece, which you can find here
.
---
This fanfic contains examples of:
---