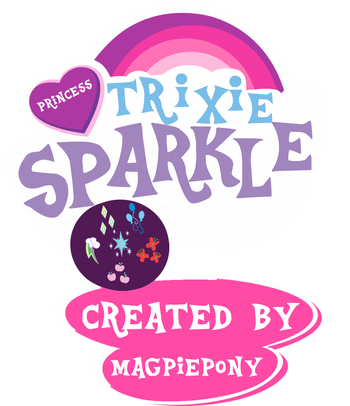 Princess Trixie Sparkle
is a fanfic for My Little Pony: Friendship is Magic written by Magpiepony
.
Trixie is tired of being the cast-off and the laughing stock of Equestria. When she gets her hooves on a rare spell, she finally has the means to seek her revenge on Princess Twilight. Switching their bodies, Trixie becomes an overbearing royal overlord who wants everything her way. In the meantime, Twilight is stuck in Trixie's body and the Mane 6 have all been scrambled, but things get much worse, after the Mane Six and Spike accidentally stumble across a gem Trixie used in the spell, which causes all of her friends to swap bodies as well. And Rarity and Rainbow had big plans that day. Now Twilight and her friends have to find the answers to this puzzling spell before Trixie ruins Equestria for everypony! But there may be more to these events than it seems.
A mini-series musical version of the story is now available on YouTube
, similar to Bride of Discord as well as a PTS website
dedicated to the story. It has currently ended with a total of 11 episodes. A sequel, Princess Trixie Sparkle 2: Fragments and Shadows has been announced
, with many voice actors from the audio drama confirmed to be returning.
---
Princess Trixie Sparkle contains the following tropes:
---