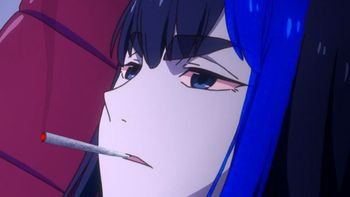 Maim de Maim
is a Kill la Kill fanfic written by GasmaskAvenger
And it goes like this: Satsuki Matoi is a regular Japanese girl who discovers there's more to her than she thought after a chance discovery of a very special school uniform and a blue, scissor looking blade. Along with her classical music loving BFF Nonon Jakuzure, she sets out in an adventure that will ultimately result in saving the world.
Wait, sounds familiar?
As of 09/10/2015, an official omake side fic set during the events of Chapter 9 entitled "Remedies for Loneliness"
was released by 99-Cells and is recommended reading for fans of the fic craving for more adventures set during the earlier days of the fic. Later, by the same author as the omake, we have a prequel fic called Days Zero
Last updated July 2017, with a four chapter epilogue soon to be in the works.
---
Tropes for Maim de Maim:
Abusive Parents: Played with. Ragyou, true to canon, however, she didn't entirely start out that way, actually, she got to be abusive in some ways after being exposed to the Original Life Fiber. However, before that she

experimented on a ten year old girl

. Interestingly, she did seem to be or was very close to being a good mother to Ryuuko, referring to her as her "darling sugar cube" and the like, then again...
The Alcoholic:

Ragyou is mentioned to be drinking red wine on a semi-regular basis

until Chapter 14.

She returns to that habit afterward.
Ryuuko is too, to a lesser extent. Considering that the Kiryuuins were revealed to have a large alcohol collection, it would safe to say that they all were or are
---