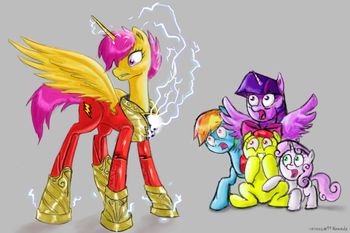 "My name is Scootaloo, I'm twelve years old and... as much as I don't like to admit it... I'm an orphan."
"Anyway, something happened to me, I don't know...I got sucked into some weird dimension thingy and I got turned into an alicorn! But it only happens when I say a certain word. This old pony told me that this power should only be used to protect others, and stop something bad that would come back to hurt a lot of ponies. I don't know what's coming, but I won't let it hurt my friends, or anypony, and to those who dare try, I got one word for you..."
SHAZAM!!
MLDC: SHAZAM, Equestria's Mightest Mare!
is a crossover between My Little Pony: Friendship Is Magic and the Shazam! series writtenby Michael_Ravencroft
.
Something stirs beneath Equestria, dark forces and evil organizations plan to usurp the peace of the world. Sensing the coming storm, the Wizard searches for one who will defend this world, and become Equestria's Mightest Mortal!
Currently ongoing with 12 Chapters.
---
MLDC: SHAZAM, Equestria's Mightest Mare! provides examples of:
---