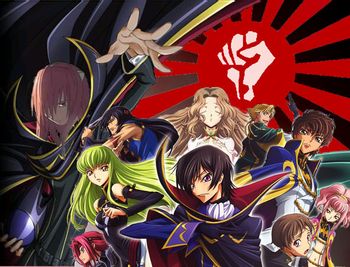 Galton's Children
is a completed fanfic Crossover of Code Geass and Elfen Lied written by LVDB, available on FanFiction.Net.
In it, Lucy is the one responsible for Marianne's death and Lelouch meets her years later with no memory of the event. As a result, Lelouch is still part of the Britannian royal family. Cue Machiavellian scheming and some unusual dynamics between the two main characters.
---
This story provides examples of:
Byronic Hero: Subverted. Lelouch's years in the royal family have destroyed most of his passionate idealism.

But his e-mail address is still apparently "LordByron111"
Dropped a Bridge on Him: Dear Collective Unconscious, like you wouldn't believe. Even

Arthur

wasn't spared, biting it at the Saitama incident.

Villetta

wasn't really bad per se, but complications arose from the botched assassination, which led to

Sayoko

and

Jeremiah

biting the bullet, literally in the former's case. Then,

Rivalz

gets killed in a subway bombing. Note that all the above happened within two chapters. Earlier in the story

The Four Holy Swords

were mentioned as having been killed off, and

Todoh

captured.

He

ended up dead a few chapters later, as mentioned by Lucy. Then, things went worse: Lucy had

Ohgi

killed on a suicide mission,

Diethard

was briefly mentioned as having been killed by

an OSI agent, possibly Rolo

; the latter ended up torn apart by

Nana

.

Clovis and Lloyd

both meet their ends at Lelouch's hand at around that time, thanks to Geass. Then, in what could only be described as a wham chapter (especially for this story), Odysseus, Guinevere, Carline, and Euphie get knocked off at once, at the SAZ ceremony.

Guilford

gets killed soon after, and

the canon Black Knights from season 1 (including Tamaki, Inoue, and the others from Shinjuku)

are purged by

Lucy/Zero

. It seems as if all the canon Code Geass characters are being targeted for major bridge droppings, and are going out way too fast. Of course, considering the other source material, this might just be tame... Oddly enough, out of the characters who were killed off canonically,

Mao

has been Geassed into serving Lelouch and survived thus far, and

Shirley and Kallen

have been hinted to have survived for many years afterward, having written books on the story's time period.

Spoke too soon: Lulu

uses Mao as a suicide soldier/decoy, Milly's dad bites it during a revolt in Pendragon, Cornelia dies in the attack that killed Mao, and while several other named characters die left-and-right (including pretty much all the Rounds thanks to Lucy), Lelouch and Suzaku get beaten by Nunnally of all people

, ending the story. Of course, they're not all safe, as the epilogue proves:

Kallen gets killed

via a lucky shot by some faceless Mook who bites it 10 seconds later. But hey, at least Orenji turns out to have survived! A final list of who survived and who died, as well as how, has been added.

Thankfully, Nana was spared in this case:

Nana: MAYBE killed by Jeremiah, Chapter 23. I prefer to think that her freaky recuperative abilities got her out of it, since she was far from the blast radius, and… Actually, you know what? Yes. Nana survived. Somehow—I don't care how—she survived the blast, received Rakshata's antidote courtesy of Lelouch's Imperial Decree #1, and was adopted by a nurturing family that loved her. Screw cynicism.

Evilutionary Biologist: The Kamakura researchers.
---