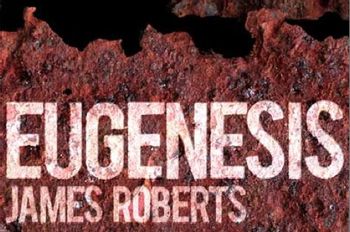 Eugenesis
(
n
.) The quality or condition of having strong reproductive powers; generation with full reproductive fertility between different species or races, specifically between hybrids of the first generation.
Eugenesis is a Transformers fanfic written by The Transformers: More than Meets the Eye's writer James Roberts.
Set in the The Transformers (Marvel) UK continuity, the story takes place in the year 2012, when the war between the Autobots and Decepticons is at a standstill, both sides poised for a big push. But outside the plotting and schemes of the Cybertronian forces, there are others with their own dark designs for the children of Primus, as elements of the Transformers' past long since forgotten return for their revenge.
One of the most well-known Transformers fan-fics out there, Eugenesis is a much darker view of everyone's favourite robots in disguise, and also very, very long. It's also not for the faint of heart, with some very grim and graphic sequences.
It's also part of the Shared Universe produced by the group TMUK.
Can be found here
It also has a short (very short) follow-up named Telefunken which is included here for completeness' sake.
---
Tropes featured in Eugenesis include:
Based on a Dream: In-universe. It's how Megatron got the idea of the Morphcore, and transformation in general. The Liege Maximo himself appeared to him in a vision and showed him the designs.
Based on a Great Big Lie:

Every damn part of Cybertronian religion was made up by the Quintessons. The famous death-code everyone's afraid of? It's from an old software instruction manual's legal jargon. ("Something about intellectual copyright")
Darkest Hour: In the epilogue, Perceptor and Red Alert muse on whether the darkest has actually come yet. Red Alert weighs in with his opinion that "The darkest hour is the next one. It's always the next one."
Dawn of an Era: What the epilogue deals with.
Demoted to Extra: A lot of major characters from the comics aren't so important here, for various reasons.
Loose Lips:

Hosehead manages to tell a time-displaced Optimus Prime exactly how and when he will die.
MacGuffin: The Matrix, natch.

The Quintessons want to use it to recreate their race.
Telefunken contains examples of:
The Bus Came Back: The Unnamed Autobot is from Aspects of Evil, a short storyline from the tail-end of The Transformers (Marvel). This story is the framing device for that story.
Un-person: Several Autobots protested against one of Star Saber's acts, and mysteriously "vanished".
Wham Line: "What's his name again?"

"Tarantulas."
---