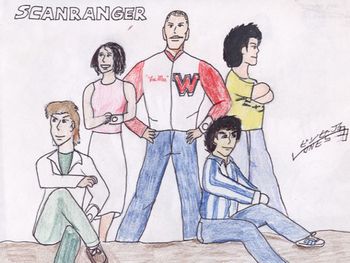 Movie geeks will save us all!
In this stunning homage to Super Sentai (and fully-extended middle finger to Power Rangers), Professor Daphne Alexandria is more than just a mild-mannered film professor, she's the head of a secret organization that protects Earth from hostile aliens, and her prize students are being drafted. Why? Because the power she has to bestow can only be used by those with a passionate love of movies. And why does Alex feel the need to trust the fate of the world to five crazy kids? Because of the imminent invasion of the not terribly effective MAYHEM Corps, hell-bent on conquering New Jersey! If the rangers can stop harping on their hatred of Haim Saban and all things Power Rangers long enough, they might just pull this off. And despite how everything sounds, it takes itself too seriously too often to be a parody.
How seriously? It's fanfiction that included a Clip Show.
Written by Vince Jones, who was outraged at how Tokusatsu programming was watered down into the Power Rangers before making it to American airwaves. Ran from 1997-2006, releasing 39 "episodes", a Christmas special and a crossover "movie" with Choujin Sentai Jetman. The last two episodes finished were basically revisiting the crossover movie.
Poorly written, ill-conceived and all with only the occasional shred of irony, Scanranger was a shining example of So Bad, It's Good.
The story is archived here
, with the writer also posting it on FF.net
after Geocities went down.
A Let's Read of the series can be found here
, and it's also become a subject
at Das Sporking.
It should be noted that while he continues to try to share his story with the internet, the author's hatred of Power Rangers has petered off a lot in the intervening years.
---
Tropes specific to Eiga Sentai Scanranger:
---