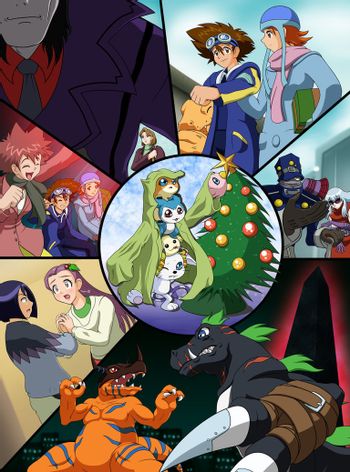 The year was 2004, five years after our first journey...
The world had changed almost overnight, and was not the friendly one I had grown up with... but such things were beyond my comprehension.
For us children, five years was forever, and we all grew and changed...
At first, I saw it all as a grand reunion...
...But little did I know what fate had in store for us.
— The opening narration for TK's new novel
A long-running rewrite of Digimon Adventure 02, The Story We Never Told
is a much darker version of the original 02. The basic premise is that the canon show is a censored version of what really happened and T.K.'s wife convinces him to write what really happened during their adventures when they are young.
The rewrite attempts to construct a more cohesive and in-depth story than the original anime, infamous for its patchy writing and unresolved plots. Although advertised as a "darker" version of the story, it is in-actuality a more "mature" story, as a result of increased adult themes and situations, while still maintaining the same "fun adventure" theme of the original.
The story is sometimes referred to by "Digimon Adventure 02-R" by its author. The story was first posted on Fanfiction.net on January 5th 2007 and completed on May 19th 2017.
---
The Story We Never Told provides examples of: