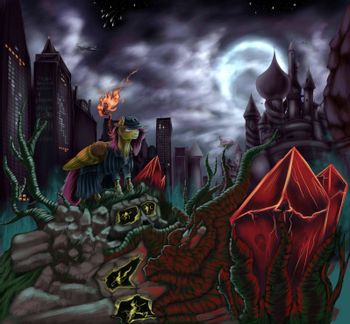 Dark Horse — A Five Score Tale from the Dresden Files is a My Little Pony: Friendship Is Magic, Five Score, Divided by Four and The Dresden Files crossover fanfic by Lord of Dorkness
that started with a simple premise.
What if Harry Dresden, among many others, one day turned into a pony?
Well, for starters, she was not very pleased with this.
Still currently in progress, and may be found on FIMfiction.net
.
Takes place post-Skin Games for The Dresden Files and the Friendship Is Magic season five hiatus. Heavy Late-Arrival Spoiler warning for both series.
---
Tropes:
Awesome, but Impractical:

The built in biological 'foci' of ponies in Dresden's opinion. (Horns, hooves, wings.) Potent and always at hand, but also a supernatural 'kick me here until the glow stops' sign for anybody used to fighting magic users.

As Harry notes herself, half a ton of pony soaring through the air is indeed quite the feat of magic worthy of respect, but if you miscast a complex spell hard enough with a staff you lose a bit of work when it explodes. If you do the same thing with one of your limbs you maim yourself.

Turning into a wolf. A neat trick and first step towards turning human again, but Dresden's new pony form has many of the same advantages and less of the disadvantages.

Bad Powers, Good People / Good Powers, Bad People

Both ultimately averted. A large part of the conflict could have been avoided if not for some rather extreme culture clash about this between Dresden's magic/methods and the Equestrians far gentler if misinformed approach.
Clap Your Hands If You Believe: A rather terrifying version of this discussed by Harry and Nemo. Nemo starts to ask Harry if it was possible to will into existence copies of Excalibur, as an example, by getting a whole lot of people to believe that the sword some joe schmoe crafted is the real thing. Harry tells him it's astronomically difficult but the theory is sound. Nemo then tells Harry that there are hundreds of millions of pony fans out there, so what if they all started to believe in the Elements of Harmony?
Crack Fic: Actually played mostly straight, but the basic concept of the story is still: 'Harry Dresden becomes turned into Fluttershy.
Curb-Stomp Battle:

All four Princesses of Equestria

challenge Harry while she's on Demonreach. The only reason the 'fight' lasts more then ten seconds is that Dresden tries making them surrender before things go nasty.
---