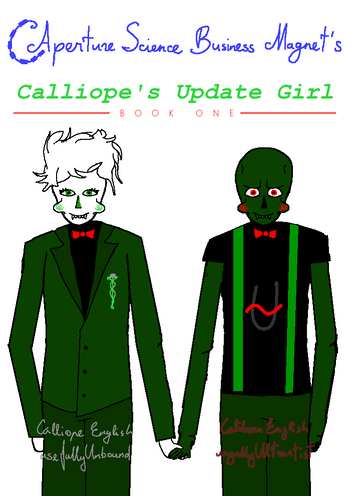 The life of a
Homestuck
character, within the bounds of Homestuck, is hard. The life of a Homestuck character, taken entirely outside of the context of Homestuck and placed in a universe where Homestuck exists, is somehow even harder. It doesn't help that, whenever you go anywhere, people are always insisting you are a roleplayer and/or a cosplayer, but yet, somehow things become even worse when a madman, one who calls himself
Andrew Hussie
, makes you read about the adventures you never had.
Little do you know, though, that you're literally entering an epic of space and time, of joy and sorrow, of hilarity and sobriety, and that it'll change your lives. Is it for the better? Is it for the worse? You will have to decide for yourselves.
Calliope and Caliborn are your average Innocent Aliens who are pretty much hospitalized on Earth. Lately, however, people keep referring to them as "cosplayers" of "Homestuck". The weird goes up when four close friends move into the same town as them, and are identified as more "cosplayers", and the six immediately get the attention of Andrew Hussie, who formally introduces them to Homestuck...
Described by the author as "an open love letter to the Homestuck fandom", Calliope's Update Girl featured a rather impressive scope of topics, ranging from Andrew Hussie's daily life to the interaction between him and the fandom, as well as the characters, and the prospect of both the characters encountering Homestuck and the fandom encountering the characters. It also has spawned a series of related fanfics that, even though they're not quite in the same universe, share themes.
This series includes:
---
Tropes: