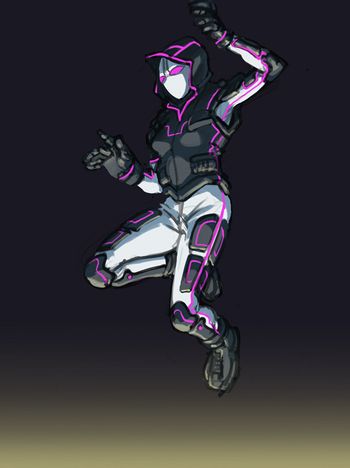 "She's dead."
The words felt alien, wrong somehow even as I spoke them. Two words. That was all it took. That wasn't right. There had to be more to it. A human life was gone. Gone. It was never coming back. She was never coming back. It had to take more than two words to erase someone's life.
Why wasn't that a rule? Why wasn't there a rule somewhere that said that when someone died, you had to use more than two words to express that fact? There just... there had to be more to it. There had to be. People died, and everyone else just... kept going. The world turned, the sun went up and down, and everything kept going.
I felt something vile rise in the back of my throat, burning a bit as I closed my hand over my mouth. I turned my head to cough sharply, feeling the stinging tears at my own eyes. God. Oh god, please. Please don't let this be real. I didn't mean it. I didn't mean any of it. I'll take it back. I'll do something better this time. Fix it. Please fix it.
Atonement is a Worm Alternate Universe For Want of a Nail fanfic by Cerulean.
In an Alternate Universe of Worm, the locker prank goes a little too far, and Taylor dies from a heart attack. Wracked with guilt, Madison falls out with Sophia and Emma, and triggers with Mind over Matter powers and a Danger Sense. Calling herself Tether, she sets out as an independent hero before ultimately joining the Wards, determined to make up for her past mistakes.
As Atonement is a fast-moving fanfiction with a lot of content and plenty of Shocking Moments, most, if not all spoilers below are unmarked. You Have Been Warned.
Atonement can be found SpaceBattles
, FF.net
and Sufficient Velocity
.
The Author also has a second fanfic in an Alternate Universe of the setting with a similar theme called Intrepid.
---
Tropes:
open/close all folders
A-C
Action Girl: As in Worm canon, it's a World of Badass, with just as many capable girls as men, notable examples including Flechette, Battery, and Reach. Madison herself starts out as an Action Survivor, but with a little experience (and some Boxing Lessons for Superman) she graduates into this trope properly, fighting with (and winning against) heavyweights such as Lung and Jack Slash himself.
Abusive Parents: Averted with Madison, who specifically states that her parents never abused her and she can not blame them for her atrocious behaviour.
Adaptational Jerkass: While Piggot is abrasive and bigoted towards parahumans (not unjustifiably so) in canon, she was also professional and a Reasonable Authority Figure who was dedicated to the PRT's mission of spreading a positive image of capes despite her disdain for them. Here, her negative traits are dialed up, often making petty and obstructive decisions.
Adults Are Useless: With few exceptions, the kids drive the story and handle the important things. Madison lampshades it often.
Affectionate Nickname:

Madison's parents and Marissa all call her "Mads". Ethan calls her "Ewok", and Madison returns the favor for Marissa with "Mars".
Dinah and Riley call Pandora "Panda", the justification for which being that it makes her feel more human. Emma and Amy also start calling her this after Character Development.

The Alcatraz: The Birdcage, as in canon. Unlike in canon, however, a few people can manage to get in and out—namely, Defiant and Glaistig Uaine, and the former even manages to bring a few others with him, albeit accidentally.

For everyone but Glastig Uaine, getting out requires crazy Tinker shenanigans or a hyperspecialized power. The Fairie Queen just waltzes in and out as if it was her house.

Alternate Universe: Atonement is primarily a What If? fanfic, but this trope also pops up from time to time.

Madison, Emma and Danny are parahumans.
Aisha and Theo trigger earlier, and with different powers.

Aisha also gets a second trigger later on.

Noelle's cloning powers are used by Coil twice in the early story, resulting in the creation of Pandora and Defiant.
The fourth Endbringer appears a lot earlier, and rather than Khonsu, it's an original one, codename Anubis, who radiates a fear aura and can Animate Dead.
Cherish never joins the Slaughterhouse Nine (since Bonesaw left beforehand), but Valefor and original character Horde do.
Kaiser

had an illegitimate daughter no one knows about, who goes on the become the supervillain Clepsydra.

Always Save the Girl: The Travellers want to save their teammate Noelle from her out-of-control powers, and they've done some pretty bad stuff in pursuit of that. Marissa drops out first after a conversation with Madison about where to set the lines, and most of the team eventually follows. Krouse, on the other hand, never sets any lines, and will do anything to save Noelle. Anything. At. All.
And I Must Scream: Shadow Stalker/Sophia ends up subject to this, courtesy of a bomb made by Bakuda and surgically implanted in her head by Coil. This also happens to Browbeat, courtesy of Regent's People Puppets ability—fortunately, he's set free when the latter is killed by Leviathan.
Armor-Piercing Question:

Dinah

asks Emma "Who was your best friend?" and "What did you do to her?" and she does not let up until Emma stammers "Taylor. And I killed her". Immediately Emma collapses and becomes a gibbering wreck.
Ascended Extra:

Madison was an extremely minor character in the original story, having little-to-no characterization aside of being a Number Two to Emma and Sophia.
Rune was a largely one-off villain and member of E88, while here she not only has an actual name (Cassie Herren), but she gets to make a Heel–Face Turn and join the Wards.
Calling Laserdream/Crystal a major character would be stretching it, but she definitely puts in a lot more appearances then in Worm, and actually gets some characterization as New Wave's Only Sane Man.

Asshole Victim: Quite a few of them:

The Merchants as a whole end up subject to this courtesy of Pandora, who systematically wipes them out not long after being "born"—by the mid-teen arcs, they're more-or-less a non-factor in Brockton Bay's crime hierarchy.
Hatchet Face. Normally a man being melted alive is horrific. When he's a member of the Slaughterhouse Nine it's awesome.

Marquis

might have been a Noble Demon and generally a Doting Parent to

Amy,

but there's no denying the fact that he's a terrible person who's committed tons of crimes and killed lots of people, which makes

his death during a fight with Crawler

somewhat less sad.

The Atoner: A whole lot of them. As the title of the fanfic will tell you, it's sorta the Central Theme. Examples:

Madison herself trying to atone for her role in Taylor's death is the premise. Most of the other heroes forgive her pretty quickly, given all the good she's done since becoming a hero.
Purity/Penance and Rune/Reach both pull Heel Face Turns and try to atone after the destruction of Empire Eighty-Eight. Nowadays, it's almost hard to remember they were ever villains.
Dinah manages to talk down Bonesaw/Riley into doing this.

By the time the Nine come into town, she's solidly in "hero" territory.

Ruin/Hunter thinks she's this. No one but her thinks she has anything to atone for.
After triggering and coming to terms with the things she's done, Emma becomes this, trying her hardest to help out Dinah and see her plan for the future to completion.

Battle Couple: Madison and Marissa, Cassie and Theo, Sam and Ethan, Carlos and Mariko, Dennis and Hunter (sorta).
Beta Bitch:

Madison used to be this to Sophia and Emma.
Emma was this to Sophia before

she got beaten by Madison.

Beta Couple: Vicky and Dean, Cassie and Theo, Hunter and Dennis.
Beware the Nice Ones: Tether is one of the nicest people you will meet. Push her far enough and she will murder you.
Big Bad:

Coil takes on this role in the early arcs, until an Enemy Mine between the Wards, Travelers, and Undersiders takes him down.

When the Nine attack, he escapes and starts re-building his empire, but has yet to make any major moves.

For a while, Defiant plays this role, though he's initially more of a Hidden Villain, and by the time readers see him as he truly is, he's been revealed as The Dragon to Teacher.

Big Damn Heroes:

During the Leviathan fight, Madison comes very close to getting squashed by Leviathan after she pisses him off enough, only for a Pandora who's recently acquired the power of Flight to swoop in (har har) and save her.
The Brockton Bay Wards as a whole pull this off to save the pinned-down Maine Wards during the Anubis fight.
When Tether and Reach are cornered by

Horde's

minions in Arc 27,

Ruin appears out of nowhere and kills Horde, saving both girls in the process.

Glastig Uaine shows up out of nowhere and drives off the Simurgh when she attacks Brockton Bay while the core cast is off-planet in Interlude 30.

Armsmaster arrives at Dragon's base just as Saint has taken down Tether and defeats him effortlessly

Breaking the Fellowship: Several examples.

Madison breaks off from Emma and Sophia following Taylor's death in the locker.
New Wave doesn't survive the death of Brandish, with its members either retiring from hero work or joining the Protectorate.
It's a rather twisted example, but the Slaughterhouse Nine doesn't survive its visit to Brockton Bay. Bonesaw and the Siberian left beforehand (Bonesaw pulled a Heel–Face Turn, Manton left to look for her and got captured by Faultline's crew), and every other member except Mannequin and Burnscar (who end up joining Coil) die while they're there.

Break the Cutie:

Coil tries to do this to Madison by blackmailing Sophia into killing Mads' parents, but all it does is get Madison angry enough to come after and take him down.
Later on,

Jack Slash

tries to perform a combined one on Madison, Dinah, and Riley by confronting them with their past mistakes

and having Hatchet Face kill two of the Pandora's,

but all three manage to resist him.

Break the Haughty:

Madison accidentally caused the death of a girl she had been bullying for over one year and was abandoned by her friends—who in turn started bullying her.
To Emma. Her bullying led to her best friend's death and she did not—or want to—get it. She lost one of her friends and the remaining broke off with her and she did not get it yet. So that

Dinah

resorted to break her psychologically.

Breather Episode: Several arcs consist of little more than characters hanging out and having fun, often after a Wham Episode. Cerulean himself has stated that he believes in breather arcs like this because they lighten up the tension—the notable lack of breather episodes like these in Worm itself is one of the series' most common criticisms.
Broken Pedestal:

Tether

became this to some of her fans when

her past as a bully was made public.

Broken Tears:

When

Dinah

forced Emma to face what she had done, Emma collapsed, sobbing and crying out that she did not mean it.
Later Emma breaks down again when Madison has a talk with her. During her conversation she wept and trembled while she struggled to speak.

The Cavalry: Pandora is a fan of this trope, since her small army of clones and shared Hive Mind means she can be in lots of different places at once. Unfortunately, it doesn't quite work out during Arc 25, which gets Pandora-Eta and Pandora-Rho Killed Off for Real by Hatchet Face.
Character Development: There's a lot of it, going along with The Atoner moments mentioned above.

Madison stands up to Sophia and Emma and grows out of her shallow popular-girl tendencies—most notably, when she stops disregarding Missy and Mika's opinions just because the latter two are younger.
Victoria loses some of her infamous Hair-Trigger Temper, loses her Black-and-White Morality, and manages to become a surprisingly competent leader for the Brockton Bay Wards. Unfortunately, she's Killed Off for Real by Anubis shortly after she manages to achieve all of this.
Cassie manages to outgrow her racist upbringing, stop being such an asshole for no legitimate reason, and learn to trust and work with others. She remains a Deadpan Snarker, though.
Amy moves out from under her sister's shadow, grows a spine, and drifts away from her pointless Actual Pacifist tendencies to become a much more useful Combat Medic.
Theo stops being a Shrinking Violet Extreme Doormat, becomes a lot more assertive and out-spoken, and develops from a pudgy out-of-shape kid into a competent Gadgeteer Genius who's more muscle than fat.
The various Pandoras literally starting developing individual characters, along with slowly learning the basics of morality and human social interaction.

Cheap Costume: Tether starts out with a costume she put together out of her closet. She eventually earns an actual costume after joining the Wards.
Chekhov's Gunman: Defiant starts out as a minor character who's mentioned to be a low-level Tinker and independent hero in Brockton Bay. Turns out he's actually a clone of Trickster, and all the alleged "hero" work he's been doing is setting up events for Teacher to escape from the Birdcage.
Children Forced to Kill: During the third PHO interlude, a lot of users call for various members of the Protectorate to be arrested or sued for child endangerment, because the Wards, aka children, have had to fight off

the Slaughterhouse Nine

and others, have been forced to kill, and have been subjected to a lot of horrible things.
Cliffhanger: Virtually every chapter ends in a way that has posters ranting, only for the next update to explain why it made perfect sense.
Clone Angst:

Poor, poor Defiant. He desperately wants to be his own person, but the brain conditioning that comes with being one of Echidna's clones causes him to do some nasty (not to mention crazy) things.
Pandora zigzags this trope. She's able to avoid going crazy by using her brain-absorbing ability to rewrite her mind and erase the conditioning, but in the process loses nearly all social function and gains a good deal of Blue-and-Orange Morality. She's working on this, but still struggles to function socially.

Closet Key: Marrisa is Maddie's. Mars had feelings for Noelle that she was pretty sure would never be returned. Mads had not-serious boyfriends before, and was kind of surprised to find herself attracted to girls. Or she speculates that she may just be Marssexual.
Combat Medic: Panacea starts out as a straight Medic, much like in canon, but Character Development eventually makes her into this, most notably when she

converts the sweat on an ABB goon who's holding her hostage into sleeping gas to knock out his buddies and buy some time for the Wards in Arc 21

, and when she kills Crawler by reversing his Adaptive Ability to attack his own body in Arc 26.
The Corrupter: Tether inverts this trope, preferring to convert villains to good rather than taking them down. She has a pretty impressive track record.
Creepy Good: Going along with Cute and Psycho below, Bonesaw/Riley starts out as this initially after making her Heel–Face Turn. She gradually ditches the "creepy" part courtesy of Character Development, but remains firmly good.
Crocodile Tears: Madison had seen Emma sheding fake "I'm hurt! Pity me!" tears dozens of times. So, when she saw her crying after her Heel Realization, she realized she was truthfully remorseful because she could recognize Emma's fake crying, and that was not it.
Cruel Mercy:

Tether refused to kill Coil because she wanted him to live and know she had beaten him and fouled his plans.

Dragon Unchained refuses to kill Saint. Nope, he's going to prison just like any other criminal, and watch as she keeps right on being a hero.

Cruel to Be Kind:

Dinah

forced Emma

to relive all happy memories she shared with Taylor and all times she had bullied her ex-best friend before leading to Taylor's locker and force her to admit aloud that she had killed her best friend.

It was very harsh but it helped Emma to finally face reality and starting atoning for her sins.
Cute and Psycho: Bonesaw, even moreso than in canon—it's helped along by the fact that the readers see her experiments in a lot more detail than in canon, and Madison is a lot more squeamish than Taylor. Riley gradually outgrows this trope with the power of Character Development as time passes.
Curb-Stomp Battle: Glastig Uaine kills everyone in the Birdcage who worked for Teacher while the heroes were confronting him. Without hurting the PRT people keeping an eye on them. With such trivial ease that no one realizes that there was a fight until she mentions she killed them. Turns out she used a Stranger power to make everyone she wasn't killing not notice her.

Ruin vs Horde. Two words, and the Slaughterhouse Nine member dies with no chance to fight back.

Glastig Uaine vs the Simurgh. Ziz ends up running away after the Fairy Queen whips out a precog negator and starts blasting away with a Wave-Motion Gun.

After arriving at Dragon's base, Armsmaster takes down Saint's remaining mercenaries with a single blast, then tears apart the two remaining Dragonslayer suits without taking a single hit or hurting the occupants.

Cursed with Awesome: Ruin's power. Her voice creates a Wave-Motion Gun whenever she so much as produces a whisper, and she has no control over it. In fact, her trigger event killed an entire mall full of people, including her mother. She's underwent training courtesy of Glaistig Uaine to minimize any possible noise she might create, but still struggles from a great deal of angst over her condition.
D-F
G-I
J-L
M-O
P-R
S-U
V-Z
---
"We..." I leaned back a little, moving a hand to Emma's chin, tilting it up so that she had to look at me. Her eyes were bloodshot, and she flinched but didn't look away once I caught her gaze. "We remember that... it wasn't some supernatural thing that made us act that way, Emma. We weren't taken over by some evil spirit or monster that forced us to do those things. They were our choices. Everything we did, we did it because we chose to." She flinched and tried to duck her gaze again, but I held her chin steady. "Everything that happened, all of it, was our choice. And everything that happens in the future is our choice too, Emma. If you don't want to be that person again, then don't be her. It's all up to you. If you don't want to forget, then don't. Choose to be the better person. It's was your choice to be the person who did those things, and it's your choice to be a better one. You have to accept that... responsibility. Not just now, but all the time. You've gotta make that choice every single day."
---