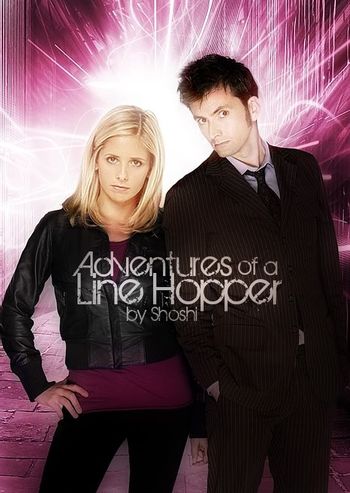 The Adventures of a Line Hopper
by secooper87 is a long
Inter Continuity Crossover
series between
Buffy the Vampire Slayer
and
Doctor Who
, and later with their respective spinoffs
Angel
and
Torchwood
. It begins one night in 1998, as Buffy Summers patrols the Sunnydale graveyard and discovers a man in a pinstripe suit and trainers chatting up a vampire...
Canon compliant with the televised Buffy and Doctor Who franchises, but not with their various non-televised Expanded Universe works. To clarify, The Adventures of a Line Hopper is the name of both the first set of stories and the series overall. The series can be divided into two parts:
The Adventures of a Line Hopper
Buffy Summers attempts to discover the secret of her connection with this mysterious "Doctor".

Don't Be
Starlight
Date Night
Role Model
Paradox
Blue Box Bad
''The Facksisil of Balime"
My Weapon
Riley Finn Doesn't Hate the Doctor
Nothing
Something
The Seventh Segement
Elizabeth
Your Nature
The Bringer of Death
Happy Endings
The Child of Balime (Split into 4 "seasons") primarily chronicles the adventures of Seo, a new time traveller introduced at the end of Line Hopper and the daughter of Buffy and the Doctor.
The 1st "season" primarily features the Buffyverse characters at the start of Torchwood in 2007.

The Prophecy of Harkness
Judgement
A Scooby of Her Own
Because I Could Not Stop for Seo
The Most Dangerous Alien You'll Ever Meet
88719
Prey
Reasons to Live
Daughter
The Revenge of Bilis Manger
A Terrible Influence
Hindsight
Boyfriendish
The Years That Never Were

The 2nd "season" primarily features Seo's travels through time

Trials
First Day
Till Death, Demons, or Alien Invasions Do Us Part
Slavery and Freedom
Pickpocket
Defenestration
Cheaters
Curse of the Buffy
Good Aliens or Bad Aliens?
Because It's Evil and It Wants to Kill You
Keeping Scores
Replacements
Mr. Hart
Saving Gray
The Making of Bilis Manger

The 3rd "season" primarily features Buffy's mysterious illness

and Seo and Jenny's regenerations.

Confession
Tattle-Tale
Glorious
Sunglasses
All Must Fall
The Totos and the Vanguard
Green-Eyed Monster
Butterflies
Headless Monks Armed With
The Intruders
The Chevauchéers
The Ten Seos
Four Five Six
Prisoner
Three Generations
Line Hopper

The 4th "season" primarily focuses on Seo's relationship with the Doctor and continues the arc started in the 3rd "season"

One Word
Acathla
Irkoli
Celebrity
Perfect World
Invasion of Hell, Part I: Genesis
Un-Minority Report
We Must Survive
Invasion of Hell, Part II: Dreamless
Mirror Vision
Invasion of Hell, Part III: The Nightmare
You Never Know What You Have...
Redemption
Invasion of Hell, Part IV: The Doorway
A Single Act of Kindness
The Tartaurus Gate
Reunion
After Reunion, the series will restart into a new series featuring the Original Characters of Line Hopper, while removing a majority of the Buffy and Doctor Who elements and characters.
---
The tropes appearing in Adventures of a Line Hopper are: