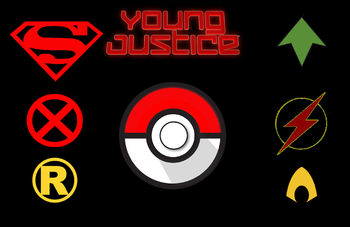 Adorable Murderbeasts
is a Young Justice (2010) Self-Insert fic written by DesertChocolate (Who also wrote Hunters of Death, Through a Temple, and Saiyan In Brockton).
One day, Mahmoud Schahed finds himself on the outskirts of Metropolis with a bag, a flute, and six Pokeballs. He knows he's in a DC Comics universe, but has somehow forgotten which one, and the important details thereof. One foiled bank robbery and a session with the Lasso of Truth later, he finds himself taking the name of Trainer Red, and assigned to the Team with Aqualad, Robin, Kid Flash, Superboy, and Miss Martian.
As such, this story is about the Self-Insert and his Pokemon, characters in their own right, becoming heroes in the Young Justice universe.
In June of 2020, DC decided to reboot the story (into Monsters of My Own), but not before writing a Distant Finale to serve as a epilogue for this version.
Also posted on Sufficient Velocity
and Fanfiction
---