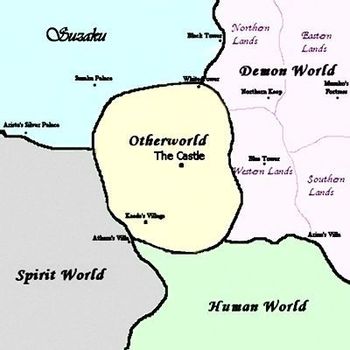 The Otherworld Series
is an
anime
Mega Crossover
created by "Lin O." and "Christine". The series revolves around Aara, the youngest sister of a group of 5 beautiful princesses and former beings of light who have been charged with guarding the borders of the various realms of a "pseudo-medieval/renaissance" universe. Aara herself has been charged with ruling and guarding the titular Otherworld, a realm in-between and bordered by all of the other 4 realms: the Human World, the Demon World, the Spirit World, and the realm of Suzaku. Along with their god-like powers, the sisters also protect their borders by creating their own harems of (usually half-demon) men to fight for them using an ability known as "bonding". Bonding involves one of the princesses having sex with the "male" in question. This makes the man fall completely in love with and utterly devoted to the princess, as well as gives them some empathic powers that allow them to keep track of their new mate.
It's also known for using pictures of characters
from what seems to be every 80s and 90s anime in existence to get out of describing its characters or creating new ones outright. And sex, of course. There's a lot of that too.
The series spans 11 official stories or "books", as well as numerous short stories. Not to mention several fanfics of its own.
Not to be confused with the short-lived 80s TV series, the DC comics miniseries, and Kelley Armstrong's Women Of The Otherworld book series.
---
This series contains examples of:
---