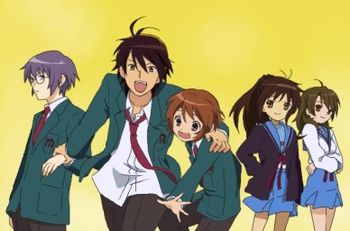 Suzumiya Haruhi no Seitenkan, or (roughly) "The Genderbending of Haruhi Suzumiya" in English, is a fan creation based on the Haruhi Suzumiya franchise that serves to tell what the universe would be like if all the male characters were female and vice-versa. Started off as just a random musing that became quite popular because of the difference in dynamics from the flipped gender roles and dynamics that gives a distinctly different impression from the original. Such as changing Kyon's cool snarks into Kyonko's cute sass.
It got so huge that it is one of the longest threads in the Animesuki forum
and gave birth to the revision projects
. Also notable for having strikingly different versions of genders with Kyon(ko) [you really can't tell that they are genderflips of each other on appearance alone], that they might as well be two unrelated characters if not for the personality and origin.
Note that not everyone in the fandom uses the same gender-bent names; the main variation is "Haruhiko" for Haruhi, which is pretty common in the Japanese fandom.
---
Tropes:
---