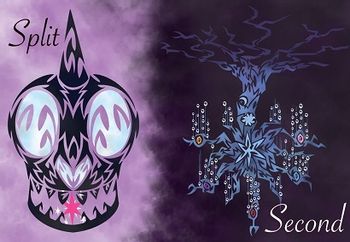 Sparkle couldn't stand the concept of fate. She hated those ponies who spoke of it, as if it were this overarching, controlling force that decided what happened in life. She refused to believe in it, not when it meant that she was fated to kill her parents, or that she was fated to have – accidentally – caused her brother to lose that promotion, or... any of the misfortunes that befell her after that fateful day. Not when her sister...
Split Second
and its sequel, Split Second: An Eternity Divided,
are My Little Pony: Friendship Is Magic Fanfiction by wille179. The story tells the tale of Twilight Sparkle, who, during her entrance examination to get in Celestia's School for Gifted Unicorns, ended up breaking time. Twilight becomes a White Mage, an inventor, and the student of Princess Celestia. Meanwhile, Sparkle becomes a Necromancer, kills her parents, creates an undead Dracolich, and has been shunned by society for her powers.
For Want of a Nail hits HARD.
Not to be confused with any other work by that title.
Has an ask blog by the title of Ask Sparkle and Thorn.
Has since been unofficially canceled as wille179 has left the fandom.
---
Both stories provide examples of:
open/close all folders
Tropes
Mistress and Servant Boy: Played with. Cobalt is magically and irreversably subserviant to Sparkle, his Mistressnote . This gets in the way of their romantic feelings.
Necromancer:

Sparkle is this. Her magic is naturally "Dark," or in-spin as it is defined in-story.
Cobalt becomes a necromancer over the course of the first story.

Physical God: All of the deities.
Pocket Dimension: Several examples so far:

The Power Ponies comic Book: Sparkle, Thorn, and Cobalt were sucked inside. Sparkle temporarily hijacked its magic to become a Reality Warper, but almost immediately got them ejected. The book has since vanished.

Sparkle has since created a working version for herself. Tirek's dead body is currently stored inside.

It's eventually revealed to be the afterlife.

The Afterlife, for which Death serves as the Dimension Lord.
There are also some areas that are just Bigger on the Inside without being as separate.

Self-Made Orphan: Sparkle accidentally killed her biological parents, and then in her second life, accidentally killed her second mother and made her second father wish he was dead.
Soul Jar: an odd case. Sparkle and Thorn are this to each other. As they collectively share 1.5 souls (.75 of a soul each), as long as one lives, the other can act as a disembodied spirit until a new body can be created.
Temporal Mutability:

Immutable, of the You Already Changed the Past variety. The gods are the exception, but overwrite their own histories in the process.
In An Eternity Divided, Death uses his time magic to overwrite the past. Death becomes a mare with no memory of ever having been a stallion. And, to top it off, the author went back and edited every chapter that even a reference to Death appeared in to switch Death's gender.

Tome of Eldritch Lore: The Dread Necroptica, the ultimate book on Necromancy, has seven volumes: Soul, Mind, Flesh, Blood, Bone, Pain, and Death. It's also capable of conversing with its readers, as the whole series is possessed by a single information demon.
The Undead: So far, the list includes: a Dracolich, a self-animating zombie foal, and several reanimated skeletons.
Vertebrate with Extra Limbs: Life and two of Death's three formsnote have six limbs. Life and the Reaper have an extra pair of forelegs protruding from the same shoulder as their originals, while the Keeper has a centaur-like configuration.
White Mage: Twilight is this. Her magic is naturally "Light," or out-spin as it is defined in-story.
---
Split Second provides examples of:
A-M
N-Z
No Pregger Sex: Inverted: Sparkle has unexpected (but consensual) sex while pregnant. She points this out to Ironwood when he starts freaking out about possibly impregnating her.
Our Demons Are Different: Two different examples:

Information Demons, which live inside of books and exist only as a nebulous cloud of information, or
Specters, which are magical constructs that exist somewhere between a demon and a ghost.
---
An Eternity Divided provides examples of:
Tropes
---