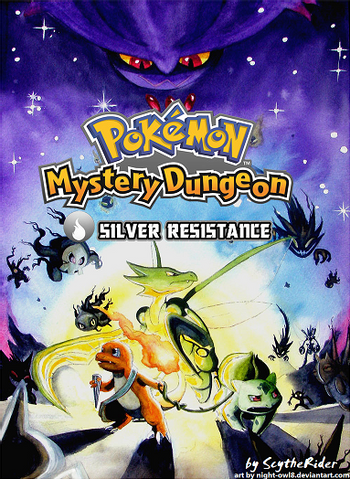 Pokémon Mystery Dungeon: Silver Resistance is a Pokémon Mystery Dungeon Fan Fic written by ScytheRider, something of a Reconstruction of the titular Roguelike games.
It chronicles the story of Char—a human who awakens to find himself having been transformed into a Charmander, stripped of all memories of his past life, and left stranded in Ambera, a world where Pokémon can talk and have built a thriving civilization. All is not well in Ambera however, as it is being ruled by a tyrannical entity only known as "The Master". If that's not bad enough, Ambera is also plagued by "the Watchers", a mysterious group of ghost Pokémon that only appear at night and relentlessly attack any being unfortunate enough to encounter them.
Crossing paths with a fugitive Bulbasaur, Char is quickly drawn into the resistance movement against the enigmatic Master. After their recruitment, the two are taken under the wings of an elderly Scyther who happens to be one of the all-star players of the resistance movement. But things don't stay simple for very long: Char soon learns he was lured into the resistance because he possesses a rare latent ability called the Call that randomly turns him into a psychic atomic bomb and mind-controls every Pokémon who hears his telepathic call. When he learns that the resistance wants to use his power to summon legendary Pokémon and win the war, Char finds himself in over his head in ways he never thought possible.
The story itself can be found here
, although it is currently going through the latest of multiple long hiatuses. It boasts two SpinOffs as of this writing: Silver Resistance: Mystery of the Heart
by Diego Zeyon (which itself has a prequel
and now has it's own page), and Forgetting
by Gorsecloud. Silver Resistance also has a prequel set several decades in the past, Emerald Chronicles: A Frozen Flame
, featuring numerous fan-created characters.
---
---