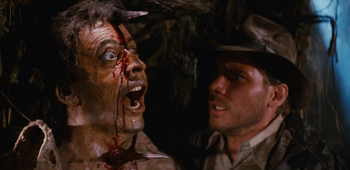 In Agent Cody Banks, the main villain's head is eaten/melted by raging nanobots which escaped from an icecube placed in his mouth. Since this was a Family Movie, only part of this was shown. Possibly made even nastier by the villain basically being murdered by Lizzie McGuire.
The Disney-produced The Black Hole was the very first film from the company to be rated PG. The scene where homicidal robot Maximilian puts a whirring drill through Anthony Perkins' chest and then tosses his corpse into an electrical grid was likely one of the strongest factors for that.
In Stephen Sommers' adaptation of The Jungle Book, the antagonists suffer rather horrific deaths: the first

sinks in quicksand

, the second

falls and splatters his brains (offscreen)

, the third is

mauled by Shere Khan

, the fourth

gets buried alive in a tomb

and the main one

dies while being attacked by Kaa underwater.

For a mostly kid-marketed Kaiju movie, Gamera vs. Guiron features an infamous scene where the knife-headed monster Guiron battles Space Gyaos, first deflecting its sonic beams back at it, severing its leg, then slicing off its wing midair, causing it to crash, then pouncing on the downed and helpless Gyaos and proceeding to slice it up like a holiday ham, laughing evilly as he chops away.

The Showa-era Gamera series, despite being seen as mostly a kids' series has...quite a few moments. Highlights include Gamera vs. Gyaos where Gamera tears into Gyaos' face spurting copious amounts of pinkish blood, or Gamera vs. Jiger where Gamera impales Jiger through the head with a sonic sound-emitting device.

Marvel Cinematic Universe:

In Captain America: The First Avenger we get a rather graphic (and gory) shot of a HYDRA mook getting thrown into a airplane propeller. At least, it goes fast enough not to show any organs — just a gigantic spray of blood. Still very unsettling though. The film establishes very early on that it's not going to be 100% family friendly though. The first death shown is already quite graphic.
Going into Civil War, many people correctly guessed based on Arnim Zola's speech in Winter Soldier, that the Brainwashed and Crazy Bucky Barnes/Winter Soldier killed Howard and Maria Stark on HYDRA's orders, and weren't surprised to see it play out on film... but because it was

passed off as a garden-variety car accident

, it still caught them off-guard by really, really living up to this trope (they both survive the accident itself and the camera doesn't cut away at all from their subsequent violent murders, complete with Howard recognizing his old war buddy).
Avengers: Infinity War takes it up a notch with Loki's death. Thanos picks him up by the neck and begins to crush his windpipe. There's no Gory Discretion Shot either. It's completely onscreen. You see Loki's eyes bulge and become bloodshot and blood come out of his mouth, nose and eyes. And you hear the Sickening "Crunch!" of his neck snapping. And this is all in the first ten minutes of the movie! It gets worse later when Thanos sacrifices his own adopted daughter Gamora in exchange for the Soul Stone. He hurls her off a cliff, and we are treated to a long shot of her lifeless body laying on the ground in a puddle of green Alien Blood. Not to mention the infamous Badass Fingersnap. It may not have been painful for anyone, but it killed literally trillions of innocent people — maybe even more!
Doctor Strange in the Multiverse of Madness gives us exactly what you'd expect from a Superhero Horror film directed by Sam Raimi. Specifically, things don't go well for the Illuminati when they take on Scarlet Witch. Maria Rambeau being crushed by a falling statue is on the tamer end of the spectrum compared to Professor Xavier suffering a Neck Snap, Mr. Fantastic getting his body ripped apart like noodles, or Captain Carter getting cut in half with her own shield. But poor Black Bolt gets it the worst, as we see what happens when his mouth is magically removed just before he is able to utilize the destructive power of his voice. And once again, sans most of Carter (no pun intended), all of these are completely onscreen! Furthermore, an evil variant of our hero gets Impaled with Extreme Prejudice, a sorcerer is burned alive/Taken for Granite by the Darkhold, and the Gargantos is taken out via graphic Eye Scream.

Ghost (1990). The dark shadowy reaperlike figures which take the villains to hell.

One of the villains is crushed between two cars, and the main one is stabbed through the stomach by a pane of broken glass.

Snape

's death scene in Harry Potter and the Deathly Hallows Part 2 is even more graphic than the book, with Voldemort slashing

Snape

's throat open with Sectumsempra then having Nagini finish him, with blood splattering on the walls. Ironically, those writers cut

Wormtail

's death scene due to "suicide" (which it technically wasn't) being too "graphic."

It's debatable as to which is more graphic. In the book Nagini bit him several times and, while no blood is specifically stated to have splattered, it did gush from his mouth, ears, nose and eyes, along with the memory that Harry has to collect and put into a phial for evidence. And there is a discretion shot in the movie.
From the same film,

Bellatrix's

death. In the book,

Molly

simply hit her with an unidentified spell that killed her instantly. In the film, a spell causes her corset to tighten (likely crushing her internal organs and ribs) and is hit by another that blows her into embers.

The Hunger Games has its share of this. The tracker jackers are probably the worst.
Jack the Giant Slayer:

Fallon has a beanstalk grow from within him, causing his body to burst and send giant chunks of him flying.

Also, several humans are either crushed under foot or have their heads bitten off.
The Jurassic Park series has had quite a few nasty deaths.
The Lone Ranger:

The Lone Ranger's brother has his heart cut out and eaten by Cavendish

. It's a Sound-Only Death as all we can see is John's horrified Reaction Shot, and the audience only have their imaginations and the earlier rumors of

Cavendish's cannibalism

to guess what's happening.
Man of Steel has Nam-Ek graphically pulling a jet pilot out of his seat before he can eject and decapitating him with a huge cloud of blood right after. It's a Freeze-Frame Bonus, but a rather gruesome one that went by the censors.
An infamous deleted scene from The Mask was going to have the Big Bad kill Peggy by crushing her to death using a printing press instead of Stanley Ipkiss after the latter is forced to give up the titular Mask so that the villain can become the Mask himself. Peggy then emerges out of the printing press as a newspaper written entirely in red ink, has a picture of her screaming, and is entitled "Reporter Killed in Freak Accident."
Masters of the Universe sees Saurod getting zapped by Skeletor for failing to capture He-Man. He screams as he's enveloped in a blinding red light that slowly disintegrates him.
Merlin's Shop of Mystical Wonders, featured in Mystery Science Theater 3000. During the course of the movie, Ernest Borgnine relates trauma-inducing stories to his young, wide-eyed grandson — stories which include the death and immolation of innocent animals; evil, possessed monkey toys who rain death and hellfire on all around them; old ladies being killed by lightning, and worse.
While being hilarious at the same time, Captain Amazing and Casanova Frankenstein's horrific mutating deaths in Mystery Men were something that would keep you awake at night.
Oliver! has the death of

Nancy

. Not only was she one of the nicer characters, her death was the result of cold-blooded murder at the hands of her boyfriend. Specifically, he beats her viciously with a club. There is a discretion shot, but you see the club being repeatedly raised and brought down, while you can hear

Nancy

scream in absolute agony.

Later in the film, you see Bill shot while tying a rope around his waist on a roof. His body then swings around in the air. Granted, this was toned down from how he died in the book, but still.

My Favorite Martian sees the protagonist's love interest turning herself into a giant green bug/lizard thing to save him from two Mooks delivering a No-Holds-Barred Beatdown. She tosses one thug across the room into a computer console that explodes into sparks on impact, obviously killing him. And when the second thug panics and tries to run away, she cuts off his escape, still in her alien form, and swallows the guy whole as he screams his head off, and just lets out a big burp and shrugs it off like nothing happened.
Pirates of the Caribbean has plenty, even though it's Bloodless Carnage (some deaths are both weird and traumatic, such as the guy Davy Jones impales with his tentacle beard).
For a Disney film (and not of a subsidiary, but Disney itself), there's a fair bit of this trope in play, in Prince of Persia: The Sands of Time. As with Revenge of the Sith, this film earns its PG-13 rating.
Raiders of the Lost Ark: The decompressing/melting/exploding faces from the finale (

Belloq

's face explosion was considered too graphic by the ratings board that it had to be partially obscured by a column of fire; not to mention all the Nazi soldiers get zapped by the power of God ("or something"), including one suffering a direct hit in the eyes), Satipo getting impaled and the huge German soldier who gets a little too close to the plane propeller.

Every Indy movie has had this. Indiana Jones and the Temple of Doom had the Giant Mook (Who incidentally, was the same actor in the classic trilogy) being slowly pulled under a steamroller-esque crusher while he frantically screams, cries, and writhes in agony. Yeeergh. Indy even tries to save him. Indiana Jones and the Last Crusade has Donovan aging and rotting away in seconds. Indiana Jones and the Kingdom of the Crystal Skull has Russian soldiers being incinerated by the thrust of a rocket motor. Later, we get men being eaten by killer ants (including the new Giant Mook who is dragged down while still half alive) and the main villain first getting her eyes set on fire (think General Grievous) courtesy of some alien super-knowledge pouring into her brain, and then being disintegrated right after an alien gives her a Death Glare (unworthy of the knowledge? Or maybe that alien really hated Communists).

In fact, Indiana Jones and the Temple of Doom was one of the primary reasons that the PG-13 rating was created in the US.
If you think the movies are bad, then look at the comics. Indiana Jones and the Fate of Atlantis has the God Machine victims (the villains who use the machine to achieve immortality). The end result is the twisted combination of face melting and Body Horror. It makes Raiders look like Pokémon by comparison. This was in the Adventure Game version, too.
The Iron Phoenix has Indy and one of his companions captured by a cult of Druids. They kill the companion by splashing a potion on him that makes vegetation gorily erupt from his body. Indy escapes by dumping the potion on the Head Druid.

The sacrifice scene from Temple of Doom. First a poor sap is strapped to a metal grid and gets his heart slowly torn out by the evil priest. Then, while 'still alive'' (the beating heart in the hand of the priest), he gets flipped over facing the ground. A trapdoor opens, releasing smoke and red light reminiscent of hellfire. Then he gets lowered into the lava below, and just as he's about to be dipped, the camera switches to the priest's hand; where the heart suddenly ignites and burns to ash as the victim dies. And also he screamed all the way through the scene.

There's pretty much two of these in each of the original trilogy. One for the gruesome death of the Giant Mook (chopped up by the plane's propeller in Raiders, crushed under the roller in Temple, can't-be-arsed-to-remember-what in Crusader) and one for the supernatural nastiness that invariably shows up (The melting faces in Raider, the pulling out of the heart in Temple and the rapid aging of Donovan in Crusader).
Pretty sure nothing happened to the guy's character in Last Crusade, unless Vogel had him executed for laughing at him when he got pitched out of the zeppelin by Indy.

Don't forget the death of Colonel Vogel in The Last Crusade, where the tank he's sitting in the cupola of rolls off a cliff, and we can clearly see his ragdoll-like body being tossed about and bashed against the rocks as the tank bounces to a stop. Earlier, one mook is tossed onto the exposed treads of the tank and promptly rolled to the front like on a conveyor belt and crushed. In Raiders, the driver of the truck carrying the ark was thrown out the front, and we get a view of his body twitching and flailing as the truck runs him over.

1985's Return to Oz has the witch trying to take Dorothy's head, and the desert that turns you into sand.

After the Nome King swallows an egg, which is poison to nomes, slowly falls apart, eventually becoming a skeleton-like stone before collapsing entirely, and his human-like eye turns into a rock, giving him a creepy blank stare as he's dying.

Revenge of the Sith. Anakin cutting down the younglings at the Jedi Temple gets a Gory Discretion Shot, but remains chilling. Ki-Adi-Mundi, Aayla Secura, and other victims of Order 66 are executed on-screen; when Aayla falls after she is shot, the clone troopers continue shooting her, causing her body to jerk and roll around on the ground. And Obi-Wan leaves a burning, screaming Anakin to die on Mustafar. There's a good reason why the movie ended up rated PG-13 instead of PG like the rest of the series.

And of course, the Clones don't exactly have the most favourable deaths either. One that stood out was after his space fighter is destroyed, we see the Clone pilot's lifeless body floating in space amid the wreckage of his craft.
Count Dooku's execution also counts.

Given all the other violence in the film, Count Dooku's death was swift and painless.

General Grievous as well. Dying by having (what is left of) your body being set aflame doesn't seem at all fun (with the coup de grace having his eyes explode before he falls over dead).
Don't forget that kid Jedi who gets shot down in front of a screaming Bail Organa. Yikes.
Jango Fett getting beheaded by Mace Windu and having his body slump lifelessly to the ground definitely counts, while his son watches no less.
Despite the other films having a PG rating, they also had plenty of graphic scenes as well;
The Force Awakens could give Revenge of the Sith a run for it's money, being the second PG-13 installment. We see a village massacre, a beheading, the destruction of an entire system, (from their point of view, no less. The terror is visible.), and the death of

Han Solo

, one of the most beloved characters in cinema history.

The kid's movie Scales: A Mermaid's Tale ends with its antagonist getting all the water drained out of his body, which for some reason makes his entire body sans his clothes disappear. By our 12-year-old protagonist, no less.
Scrooged. The Bill Murray Christmas Carol movie, yes. It's creepy enough when Frank, down in the sewer after he's had his visit with one of the ghosts, finds the frozen corpse of the bum holding the wristwatch, but not as bad as Frank's coffin being fed into the crematory with him "alive" inside it.

This "graveway to hell" sequence may have been borrowed from the Albert Finney musical version 13 years earlier. But, as Charles Dickens himself says in Muppet Christmas Carol, "It's all right — this is culture!"

Averted in Spider-Man 2, with the death of Mrs. Octavius. Jagged glass flew at her at incredible speeds, and yet Otto found an intact, wholly recognizable body. On the other hand, while the exact fate of the last nurse Doc Ock dragged under the table is not shown, one has a feeling she isn't screaming in fear of being knocked out.

Played oh so very straight in the first movie. When Green Goblin throws one of his pumpkin bombs at the executives who used their controlling shares to toss him out of his own company, they get disintegrated into skeletons. Goblin meets his own end in an unfriendly way as well, impaled by the blades of his own glider.

In Teenage Mutant Ninja Turtles (2014), to demonstrate the effectiveness of the poison gas to the captive Turtles, Karai forcibly gasses one of the Foot soldiers nearby, with the guy's skin basically melting off as he convulses on the floor.
Transformers

The film had its fair share of gruesome deaths. Bonecrusher and Frenzy both getting beheaded (in Frenzy's case, by his own weapon), and just look at the mess of what was formerly Megatron's chest after the Allspark is rammed directly into his spark.
A soldier in Lennox's squad got impaled in his chest by Scorponok.
And Jazz's death.

Jazz: "You want a piece of me? You want a piece?!"

Megatron: "No! I want-" *tears Jazz in half* "TWO!"

Transformers: Revenge of The Fallen
Transformers: Dark of the Moon

Highlights include

Ironhide

getting shot in the back with a Cosmic Rust gun and crumbling into dust as he writhes in agony, Laserbeak murdering humans left and right,

Megatron

's head getting split with an axe before being yanked free of his body with his spine still attached, and finally,

Sentinel Prime

being shot in the face while he's down, gangland execution-style.

Que/Wheeljack

's death, execution-style. Complete with rolling severed head. And before he was executed, he begged for his life.
There is also

Starscream

being blinded when both of his eyes are ripped out and then his head is blown up by a grenade dropped into one of his now empty eye sockets,

Soundwave

having Bumblebee's arm cannon shot up through his chin and out the top of his head, and

Shockwave

becoming the newest member of the Decepticons whose faces have been ripped off by Optimus Prime club.
Then of course, there's the Wreckers tearing a helpless Decepticon limb from limb.
Decepticons killing humans. You see corpses of people who were probably commuting on their way to work in train carriages. Humans being skeletonized by Decepticons. One man gets shot by a Decepticon attack ship and all that's left is a skull bouncing along the street.

Transformers: Age of Extinction

Ratchet

having his leg blown off and shot down until he's on the ground by Cemetery Wind soldiers, then having his spark torn from his body by Lockdown.
Seeing

Lucas

being turned into a burning metal statue by one of Lockdown's grenades.
Finally,

Optimus kills Lockdown by stabbing him through the back with his sword before drawing it upwards and slicing the bounty hunter's head in two.

Twilight Zone: The Movie: In "It's a Good Life", Ethel is eaten by a monster after Anthony transports her into a cartoon. As Anthony says, "Th-th-th-th-that's all, Ethel."
Who Framed Roger Rabbit:

Judge Doom gets doused by his own "dip" and screams in pain and horror as he melts into a puddle of goo.
Watching him get run over with a steamroller wasn't exactly a fun thing to watch either. It may not have killed him, but we didn't know he would survive, and his agonized wails didn't exactly sound like "No worries, I'll be fine!"
There was a scene earlier in the film where Doom callously picks up an innocent toon shoe nuzzling his ankle and slowly and tortuously dips it as it whines in terrornote , until nothing is left but a smear of red paint on his rubber glove. So terrifying was that scene, that it was deemed necessary to be trimmed by BBC censors on its first time on TV.

A lot during the Bad Future in X-Men: Days of Future Past. Iceman gets beheaded and melted, Colossus gets torn in half, Warpath's face is pulled into a heat beam during the Final Battle. The girls are not spared either, with Storm getting brutally Impaled with Extreme Prejudice, and Blink being sliced by a Sentinel's blade from her groin up to her neck.
---