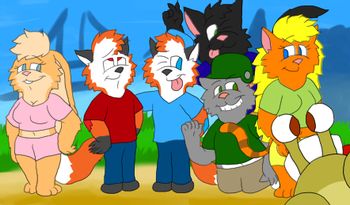 The Dynamite Twins x The Show Goes On: Slugger Slackers is a feature comic written by Wiley "Koyote" Bottcher and Jordann William Edwards. It is a CrossOver of Edwards' The Dynamite Twins and Friends and Bottcher's The Show Goes On.
It is a baseball story that focuses on the Twins and their friends challenging a group of jacked-up bullies to a full-on baseball game, complete with a huge stadium and a huge audience.
Like Edwards' previous feature comic, Bunny and Bear and the Lemonade, it will be available on Amazon.com.
Tropes in this comic: