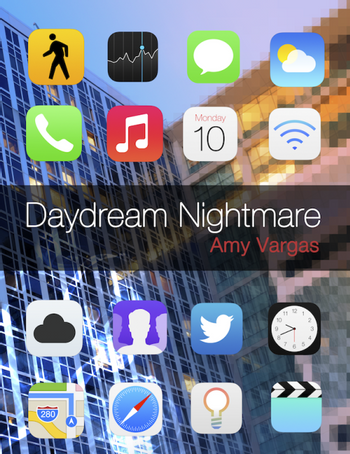 Daydream Nightmare is a series of books by
Astriferous
,that started as a song comic for a school project in March 2012,named
"Pesadilla"/"Nightmare"
.At that time the story itself was called
The Dream Catchers
,where a group of teenagers who have lucid dreams,use that ability to fight nightmares.
Later,on October 2012,while planning Super Filete's sequel,30 in Tumblr,the author was listening to My Chemical Romance's "Teenagers".And so,the concept for De Padres,Libertinaje y Sangre(also shortened to DePaLiZa) was born.This story had a different plot,which at the time was not related to The Dream Catchers.It tells the stories of several youngsters around the world,trying to survive in the world,since a mass malfunction of an apparatus that all people older than 20 wore happened and provoked their instant deaths.Soleil,which in reality are multiple AI units,will try to adjust the status quo back to normal,with potential disastrous and deadly results.The link between DePaLiZa and the now called Dreamcatchers was established though a character that lives through both of these events,and with them,the timeline for both of them.
The first draft of the book was done during NaNoWriMo 2014
(being this the author's first NaNo to ever reach over the goal word count),and an additional part,Living (The) Nightmare,was made as a wrap up of the aforementioned parts.The book is currently being revised and rewritten.
There are also two new stories(yet to be written)that take place years after the main Daydream Nightmare saga.After a worldwide electricity shutdown has started,a group of friends called The Volt Dimensions are willing to get their rights back.Another Time Skip,and in Sunset Selves,a man could finally leave a laboratory that has been locked since he volunteered for an experiment, and he finds some friends that tell him what has been going on outside,that is,if he can clear his mind.
Daydream Nightmare is the second series of Era 2 of the CPC Verse.
---
Tropes in Daydream Nightmare:
open/close all folders
General
Dreamcatchers
De Padres,Libertinaje y Sangre
Living (The) Nightmare
The Volt Dimensions
Sunset Selves