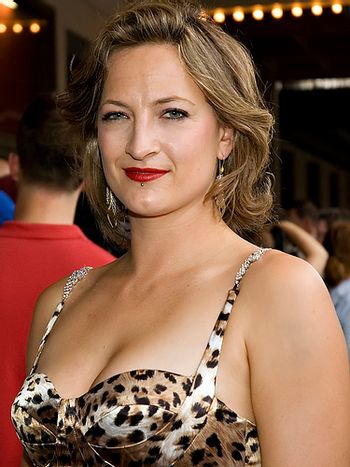 Zoë E. Bell (born November 17, 1978 in Waiheke Island, New Zealand) is a stuntwoman, nicknamed "Zoe the Cat" (and, as you can see from the picture, that's not just because she's really agile) who has recently gained some clout as an actress thanks to Quentin Tarantino for casting her as herself in Death Proof. In her stunt career, she has doubled for such actresses as Lucy Lawless and Uma Thurman. Also, she starred in the internet miniseries Angel of Death, was stunt-coordinator (and had a blink-and-you-miss-it cameo) for the Russ Meyer Genre Throw Back Bitch Slap, and played a prominent (in more ways than one) role in Drew Barrymore's Whip It. She was also one of the two major focuses of the excellent documentary Double Dare (in which she jokingly refers to Lucy Lawless as her "acting double".)
Zoë Ball, on the other hand, is the morning DJ who took over the BBC's prestigious breakfast radio show from Chris Evans. She isn't renowned for being a stuntwoman. If you came here thinking "Bell" was a mis-print for the Zoe you wanted, this is the wrong page.
---
Selected Filmography:
As a stuntwoman
As an actress
Associated Tropes:
Action Girl: When she does appear onscreen, it tends to be in roles like these (fitting for a stuntwoman).
Cast the Expert: When she was cast as herself in Death Proof.
Playing Against Type:

Her cameo in The Hateful Eight features her as a gentle, innocent character who is brutally murdered without fighting back.
Her cameo in Once Upon a Time in Hollywood has her as Janet - the wife who disapproves of Cliff being on set and orders him off after he puts a massive dent in her car while fighting with Bruce Lee. It's radically different from her normal Action Girl roles in Tarantino films (fitting for a stunt woman) but also shows some pretty good comedy skills from her.
---