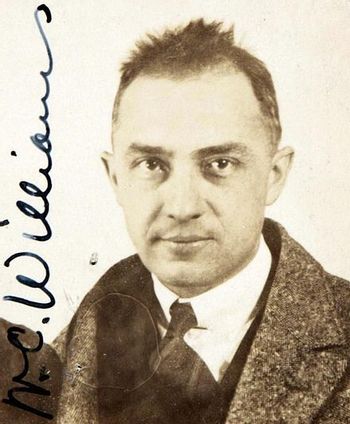 A University of Pennsylvania graduate with a medical degree, William Carlos Williams (September 17, 1883 – March 4, 1963) was a poet closely associated with modernism and imagism, along with being a pediatrician and general practitioner.
Born in Rutherford, New Jersey, Williams had a successful literary career as a poet despite his primary occupation being a family doctor, having over twenty poetry collections, almost thirty books of prose though only one drama.
In Williams' later years, he took on the role of elder statesman, mentoring and influencing younger poet, especially having a significant influence on many American literary movements of the 1950s. One of William Carlos Williams' most dynamic relationships as a mentor was with fellow poet Allen Ginsberg.
After suffering a heart attack in 1948, Williams' health began to decline where a serious of strokes followed after 1949. He passed away at his home March 4, 1963 and is buried in Hillside Cemetery.
The United States National Book Award was reestablished in 1950 with awards by the book industry to authors of 1949 books in three categories where Williams won the first National Book Award for Poetry, recognizing both the third volume of Paterson and Selected Poems. Williams was posthumously awarded the Pulitzer Prize for Pictures from Brueghel and Other Poems, and the Gold Medal for Poetry of the National Institute of Arts and Letters and The Poetry Society of America continues to honor William Carlos Williams by presenting an annual award in his name for the best book of poetry published by a small, non-profit or university press. Last but not least, he was induced into the New Jersey Hall of Fame in 2009.
Williams' Rutherford house is now on the National Register of Historic Places.
---