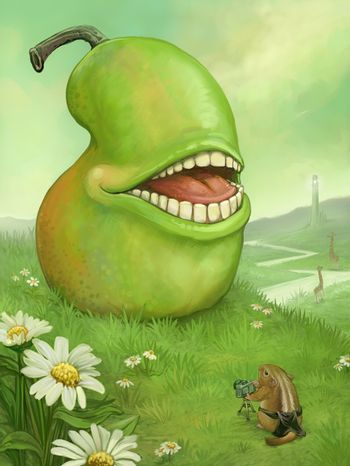 Ursula Vernon (born May 28, 1977) is a
Hugo
and
Nebula
award-winning American fantasy/sci-fi artist and writer. Creator of the
Biting Pear of Salamanca
(pictured). She has a fairly considerable Internet following, and has created a number of webcomics, including the very notable
Digger
. Her artwork can be seen
here.
She is also on Tumblr (
personal
,
kid-friendly
) and
Twitter
.
Following the success of her children's series Dragonbreath, her subsequent books for adults have been published under the pseudonym "T. Kingfisher
" to reduce the odds of them falling into the hands of her junior fanbase. She has also published a variety of short stories in online magazines such as Strange Horizons, Uncanny and Apex Magazine.
She once fought
Neil Gaiman to get to free nachos, leaving him weeping on the floor, covered in guacamole.
---
Her works include:
Online works:
A Conspiracy of Mammals (sadly unfinished)
Digger (sadly finished)
Elf vs. Orc (tragically unfinished; however, see below)
The Hidden Almanac
Irrational Fears
Kevin and Ursula Eat Cheap
Little Creature
Gearworld (Both a quasi-narrative journal and a generic setting for many paintings; tragically unfinished)
Print works:
Black Dogs
Castle Hangnail
Dragonbreath
Nurk
Hamster Princess
Ebooks (as T. Kingfisher):
Nine Goblins (2013) (a sort-of prequel to Elf vs. Orc)
Toad Words and Other Stories (2014)
The Seventh Bride (2015) (Re-released in print)
Bryony and Roses (2015)
The Raven and the Reindeer (2016)
Summer in Orcus (2017)
Jackalope Wives and Other Stories (2017)
The Halcyon Fairy Book (2017)
Clocktaur War duology (2017-2018)
Swordheart (2018)
Minor Mage (2019)
The Twisted Ones (2019)
Paladin's Grace (2020)
A Wizard's Guide To Defensive Baking (2020)
The Hollow Places (2020)
---
Works by Ursula Vernon with their own trope pages include:
Other works by Ursula Vernon contain examples of:
I Am Not Pretty: Slate and Halla, the protagonists of the Clocktaur War duology and Swordheart respectively, are both aware that they're not conventionally pretty, while their love interests think they're extremely attractive, but in a subversion, the ladies mostly don't care. (Halla's main concern is regarding how her looks might affect her marriage prospects, but given the above, this rapidly stops being a problem.)
Inn Between the Worlds: She briefly wrote and illustrated stories of a brothel between the worlds called The House of Red Fireflies.
Makes Just as Much Sense in Context: Many of her works are pretty weird. And often as not, her explanation is "I don't know, either" or "I just paint the things, I don't have to know what they mean".
Mythology Gag: In The Raven and the Reindeer, Gerta attempts to get a prophetic dream of Kay's whereabouts, and instead gets a series of dreams of other young people from various places (and, the narrator says, times). Two of them are recognizable from their descriptions as the protagonists of earlier fairy tale retellings The Seventh Bride and Boar and Apples.
---