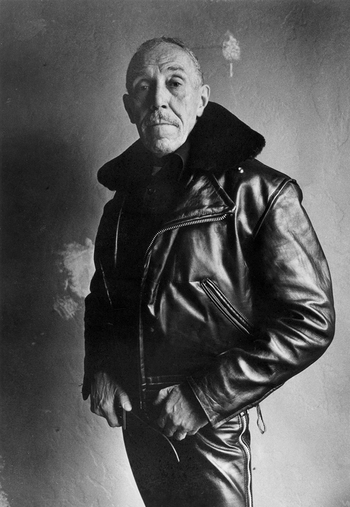 Tom of Finland (real name Touko Valio Laaksonen, 8 May 1920 – 7 November 1991) is one of the most famous artists of gay men in history, and the modern
Trope Codifier
of the
Manly Gay
trope. He specialized in drawing
sailors
and
leather-clad bikers
...with
Raging Stiffies
in their pants. He also loved to draw
lumberjacks and construction workers.
Tom himself served as a Lieutenant in the Finnish Army during World War II. He was a fire control officer in the anti-aircraft troops, and his bravery earned him Vapaudenristi (Cross of Freedom) decoration. His drawing style has been claimed to be the inspiration of Freddie Mercury's performance style.
A documentary about his life and works called Daddy And The Muscle Academy was released in 1991, and a biopic called Tom Of Finland was released in 2017.
---
Tom of Finland's work provides examples of:
---