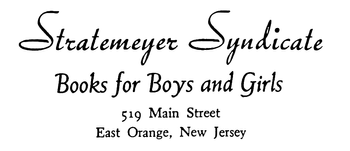 The creator of many many formulaic juvenile book series during much of the 20th century. Each series was written by many ghostwriters sharing a common pseudonym.
Edward Stratemeyer, the head of the syndicate, took a rather direct role in the creation of many of his books, which may be rather surprising considering how basic they are. He invented the primary characters of his stories by listing little more than a name and a basic description, and letting the ghostwriters fill in the personality blanks to flesh them out. He created rigid plots, but left enough blanks in the details to be filled out by a creative writer. Stratemeyer's books were super formulaic, and the man himself tightly controlled the formula.
Stratemeyer was a marketing genius if nothing else. He noticed the changing times and applied them to his new book series. When the adventures of undersea diver Dave Fearless were losing popularity, Stratemeyer created the Hardy Boys to take their place, with a greater emphasis on dialog and character. When the women's lib movement started, Nancy Drew came into existence, and became hugely popular. The addition of Jewish and Italian characters to The Hardy Boys was a response to America's growing tolerance for diversity at the time. Notably, the characters' only real personality traits in Stratemeyer's original description was that they happened to be Jewish and Italian; the ghostwriter had to give them actual personalities.
The Stratemeyer Syndicate's series include:
---
This company's work provides examples of:
---