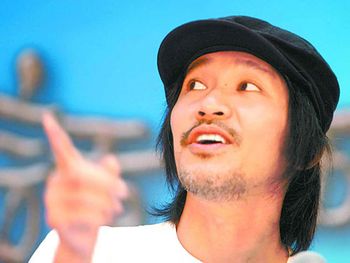 "One very important element for me to make a movie is, it has to be unique and different from any other."
An influential Hong Kong comedian, actor and film director, best known in the west for Shaolin Soccer and Kung Fu Hustle, Stephen Chow Sing-Chi (born 22 June 1962 in Hong Kong) is famous for his slap stick martial arts movies. He also has something of a reputation for taking unknowns as his romantic lead, collectively called "Sing girls", all of whom go on to have successful careers in their own right.
As an actor he has been known to be the lead actor in all of his movies as well as some lead roles in films such as the God of Gamblers sequels and A Chinese Odyssey.
He was also a producer for Dragonball Evolution, but beyond that he had not given any sort of creative influence to the film, even if it needed it.note Which it did
His take on Journey to the West has him changing things up a bit by sticking to the directorship.
---
Directed, Written and/or Starred In:
A Better Tomorrow: Retroactive Recognition for the then 23-year-old Stephen, who plays one of the Taiwanese mob leader's thugs, and is the second mook killed by Mark in the restaurant shootout.
The Final Combat (a memetic quote from his character, "Let's sit down, have some tea and a bun, and talk slowly", is regarded as the Trope Maker of his mo lei tau style)
My Hero (widely considered his big break in showbiz. Known for a CMoF involving really bad karaoke that gained memetic spread at the time)
All for the Winner (originally a God of Gamblers parody, later gets promoted to canon when he appears in God of Gamblers III)
New Fist of Fury (an Affectionate Parody of Bruce Lee's Fist of Fury, of course. There's even an Acting for Two moment in an Intercontinuity Crossover with All for the Winner.)
Fight Back to School (Die Hard in a high school)
Just Heroes: As a Deuteragonist. He didn't make it past the hour mark.
Justice My Foot (The first of many Qing Dynasty period films by Chow, this one sees him take the role of ancient lawyer Song Shijie, taking on his many crises of character in the court with the usual Rule of Funny thrown in)
The Royal Tramp (based off the classic literature The Deer and the Cauldron)
Hail the Judge (Looking like a Follow the Leader of the resurgence of interest in the historical judge Justice Bao thanks to a Chinese Long Runner TV series, this is actually a Spiritual Successor to Justice My Foot)
A Chinese Odyssey (based off Journey to the West)
Forbidden City Cop (Spiritual Successor to From Beijing above)
Stephen Chow's work provides examples of:
---