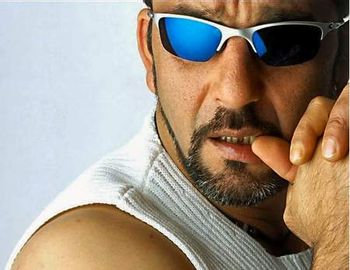 Sanjay Balraj Dutt (born 29 July 1959) is an Indian Bollywood film actor and politician, as well as the son of Bollywood stars
Sunil Dutt
and
Nargis
.
The undisputed bad boy of Bollywood, he was once was sentenced to six years rigorous imprisonment for illegally possessing three AK-56 rifles, a pistol and ammunition obtained from the Mumbai underworld. At the same time, Dutt was also "cleared of terrorism conspiracy charges in the blasts" related to the 1993 Mumbai bombings. Later, on August 20, 2007, the Supreme Court of India granted Dutt interim bail.He was released after Yeravada Jail authorities received a copy of the court's bail order. The bail was valid until the time the special TADA court, which sentenced Dutt on July 31, provides a copy of its judgment to him. Dutt was released from jail on August 23. On October 22, 2007 Dutt was back in jail but again applied for bail. On 27 November 2007, Dutt was granted bail by the Supreme Court. He currently has an appeal for an acquittal pending. In January 2009, Dutt announced that he would contest the 2009 Lok Sabha elections on the Samajwadi Party ticket. However, he withdrew his candidacy in March, 2009 after the Supreme Court refused to suspend his conviction.
Dutt's debut film was the 1981 film Rocky (no, not THAT Rocky), which was produced and directed by his father, Sunil Dutt. Dutt went on to appear in numerous other films, including Vidhaata (1982), Naam (1986), and Hathyar (1989). His breakthrough role came in Subhash Ghai's Khalnayak (1993), for which he received a Filmfare Awards nomination.
Dutt's most successful role has been that of comic goon Munna Bhai, appearing in the films Munna Bhai M.B.B.S. (as he goes to medical school) and Lage Raho Munna Bhai (where he sees the spirit of Mahatama Gandhi. Really.).
Not related to Sonjay Dutt, of TNA Wrestling fame.
---