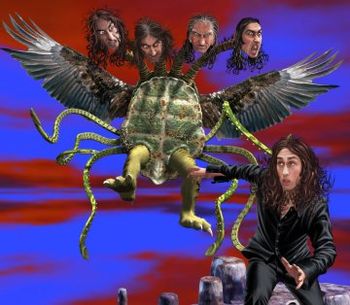 "This isn't the most linear show you're likely to see."
— Ross Noble's massive understatement on his "Unrealtime" DVD.
You might not think that such hilarity would come from a hairy geordie bloke talking bollocks for two hours. But it does.
Ross Markham Noble (born 5 June 1976) is an English comedian, but unlike any other. His ability to improvise, his tendency to go off on strange, but relevant, tangents and the influence the audience has over him mean no two of his shows, even on the same tour, are alike. In the best possibly way, though, as there is a kind of surreal, stream-of-consciousness logic to what he says.
As the man himself describes it: "It's a bit like gluing meat to your face." ...Y'know, because it seems odd to most people, but it sort of has logic behind it: "They might just be trying to ward off the advances of an amorous vegan!"
List of DVDs
Unrealtime (2004)
Sonic Waffle (2005)
Randomist (2006)
Fizzy Logic (2007)
Nobleism (2009)
Things (2010)
The Headspace Cowboy (2011)
Nonsensory Overload (2012)
Mindblender (2013)
Other Noteable Appearances
He doesn't do drugs. Honestly. He doesn't even drink.
His website can be found here
and his official YouTube account is here
.
---
Tropes associated with Ross Noble:
---