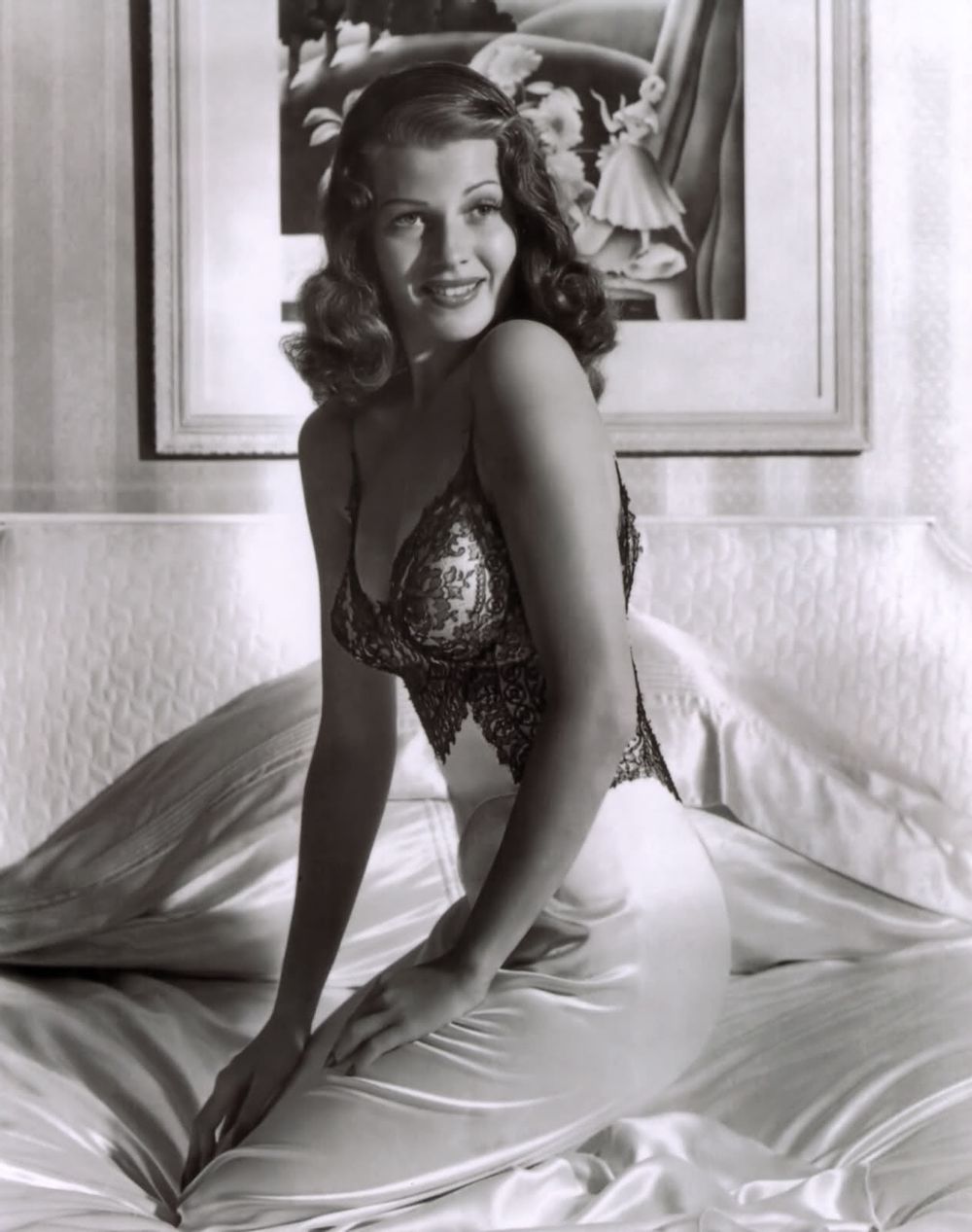 "I never really thought of myself as a sex goddess; I felt I was more a comedian who could dance."
Rita Hayworth (born Margarita Carmen Cansino; October 17, 1918 — May 14, 1987) was a famous American movie star and one of the most iconic pin-up girls of The Golden Age of Hollywood.
She was born in Brooklyn to her Spanish father, Eduardo Cansino, and her American mother, Volga Hayworth. Her father was a dance teacher who started up an act with his daughter when Rita was 12. Young Rita was a rather shy and insecure kid, and disliked the spotlight, but both her parents came to see her as their meal ticket, and gave her no real choice but to continue to perform. She was signed to a contract by Fox Studios and made her film debut in 1935, and spent the next few years playing mostly bit parts and dancing. After she was let go by Fox she was signed by Columbia Pictures. Studio head Harry Cohn, whom she eventually grew to hate, gave her a Race Lift, which included electrolysis to raise her hair line, dyeing her hair red, and changing her name to her mother's maiden name of Hayworth.
Hayworth started to get bigger parts in 1939 and got her big break in 1941 with The Strawberry Blonde, in which she costarred with James Cagney and Olivia de Havilland. This was followed by You'll Never Get Rich, a musical with Hayworth and Fred Astaire that made her a huge star. At the same time, a picture of Hayworth wearing a black negligee that ran in LIFE magazine became one of the most famous pin-up posters of the era.
Hayworth continued to enjoy success throughout The '40s, playing femme fatales and appearing in more dance movies. After a four-year hiatus due to her marriage with Pakistani Prince Aly Khan, she returned to the screen in 1952 and had several more hits in The '50s, including Academy Award nominee Separate Tables.
Hayworth's personal life was fairly tumultuous, with five marriages, including to the aforementioned Aly Khan as well as to Orson Welles, who directed and co-starred with her in The Lady from Shanghai. Hayworth would later think of Welles as her one true love, seeing him as the only man in her life that had ever really understood her and classified their relationship as the only time she ever been truly happy ("If this was happiness, imagine what the rest of her life had been!" commented a half-joking, half-serious Welles upon being told this), and though they would remain on friendly terms with each other, their breakup still weighed heavy on her for the rest of her life. She was also the aunt of voice actor Richard Cansino. She had a drinking problem, and her erratic behavior in The '70s was originally misattributed to alcohol until she was diagnosed with Alzheimer's Disease. Her illness, which eventually led to her death in 1987, raised public awareness of the then little-known disease. Yasmin Aga Khan, her daughter by Prince Aly, looked after Hayworth for her last years of struggling with the disease, and she has since raised awareness of it along with being a strong philanthropist raising charitable funds for Alzheimer's sufferers.
The famous poster is a plot point in Stephen King story "Rita Hayworth and Shawshank Redemption", and is seen in the film adaptation of that story, The Shawshank Redemption.
---
Rita Hayworth films on TV Tropes:
---
Tropes associated with Rita Hayworth include:
Ms. Fanservice: Very much so, in her films and was a pin-up girl in real life. Hayworth privately disliked this popular perception of her, resenting Harry Cohn and Hollywood in general for portraying and commodifying her as a sex object.
Those Two Actors: She made many films with Glenn Ford,note and then a few with Fred Astaire.
---