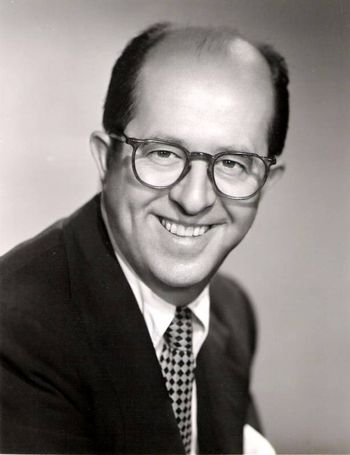 "I'm an impatient comedian. And I feel the audience is as impatient as me."
—Phil Silvers, in one of his last interviews
Phil Silvers (born Philip Silver/Silversmith; May 11, 1911 – November 1, 1985) was an American comedian, actor and entertainer, mostly known for his 1950s sitcom The Phil Silvers Show, which was his Star-Making Role on television. In the meantime, he continued to perform on stage and in films, getting nominations for Tony Awards three times and winning two, as well as guest appearances on sketch comedies throughout his career.
He also made notable appearances in such films as It's a Mad, Mad, Mad, Mad World and Carry On in the Legion, and on TV shows like The Beverly Hillbillies and Happy Days. He was the comic star of the Broadway musicals High Button Shoes (1947), Top Banana (1951), Do Re Mi (1960) and A Funny Thing Happened on the Way to the Forum (the 1972 revival); he also had a supporting role in the 1966 film version of the latter.
He married twice throughout his adult life. First of all, to model Jo-Carroll Dennison in 1945 and divorcing her 5 years later. Then he married Evelyn Patrick in 1956 and then divorced her in 1966, fathering her 5 children.
Despite the fame, Silvers suffered with numerous health problems. He became a gambling addict and suffered with depression, which held him back with casting roles, as well as having a stroke that gave him a speech impediment and had eye surgery when he developed cataracts. Unfortunately, it continued to deteriorate in his later years, dying in his sleep in 1985, leaving behind a legacy of comedy and laughing audiences.
---
Showed examples of:
---