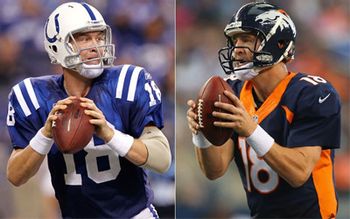 Peyton Williams Manning (born March 24, 1976 in New Orleans, Louisiana) was one of the greatest NFL quarterbacks of all time. He was in the league for 18 seasons (playing 17 in all), the first 14 of them with the Indianapolis Colts from 1998 to 2011, though he missed the entire 2011 season due to multiple neck surgeries. After that season, he was let go by the Colts and then signed with the Denver Broncos, playing there from 2012 to 2015. He is a son of former NFL quarterback Archie Manning and an elder brother of New York Giants quarterback Eli Manning - two players who are/were quite successful in their own right.
Manning played college football for the University of Tennessee, leading the Volunteers to the 1997 SEC Championship in his senior season. However, No. 3 Tennessee lost to the No. 2 Nebraska Cornhuskers 42–17 in the Orange Bowl. Manning was chosen by the Indianapolis Colts with the first overall pick in the 1998 NFL Draft. From 1998 to 2010, he led the Colts to eight (seven AFC South and one AFC East) division championships, two AFC championships, and one Super Bowl championship (Super Bowl XLI). His five NFL MVPs are a league record, he was the most valuable player of Super Bowl XLI, has been named to 14 Pro Bowls, has thirteen 4,000-yard passing seasons, and is the Indianapolis Colts' all-time leader in passing yards (54,828) and touchdown passes (399). Sports Illustrated named him the NFL player of the decade for the 2000s.
In May 2011, he underwent neck surgery to alleviate neck pain and arm weakness he dealt with during the previous few seasons before signing a five-year, $90 million contract extension with the Colts in July 2011. Manning had hoped to play in the 2011 season, but in September 2011 he underwent a second, and much more serious surgery: a level-one cervical fusion procedure. Manning had never missed an NFL game in his career, but was forced to miss the entire 2011 season. He was released by the Colts on March 7, 2012, and after an almost two-week period where he visited with and worked out for several NFL teams, he signed with the Denver Broncos on March 20, 2012. On October 19, 2014, he broke Brett Favre's record for most career TDs when he threw his 509th touchdown pass, in a game against the San Francisco 49ers. He missed significant time during a 2015 season in which he began seriously showing the effects of age and injuries, but came back for the playoffs and eventually earned a second title in Super Bowl 50, becoming the oldest QB to start and win a Super Bowl, and also the first to win Super Bowls with more than one team. Manning deflected postgame questions about his playing future, but eventually retired on March 7, 2016.
Manning's pre-snap routine has earned him the nickname "The Sheriff", and he is one of the most recognizable and parodied players in the NFL. Teams led by Manning more often than not used the hurry-up offense in place of the standard huddle.
In addition to his play on the field, Manning was one of the most popular players off the field as well. He's one of the few athletes to host Saturday Night Live. He also has a ton of endorsements and commercials for a wide variety of products which can be seen year-round, not just during the NFL season. So many, in fact, that sports-commentary comic strip Tank McNamara did a week-long story of Manning being confined to a rehab clinic for his addiction to endorsements - where his need to endorse something became so great that he pleaded with the employees to let him endorse the clinic itself. He has made a guest appearance on The Simpsons and was on the final Late Show With David Letterman as one of the celebrity presenters of the show's final Top 10 List. Manning is said to be Letterman's favorite player for his time with Letterman's hometown Indianapolis Colts. His voice acting has continued with a significant supporting role in the animated film Ferdinand.
---
Tropes related to his works: