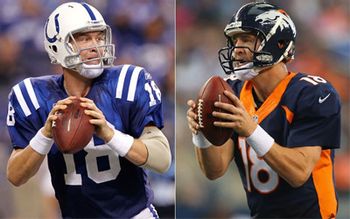 Peyton Williams Manning (born March 24, 1976) was one of the greatest NFL quarterbacks of all time. He was in the league for 18 seasons (playing 17 in all), the first 14 of them with the Indianapolis Colts from 1998 to 2011, though he missed the entire 2011 season due to multiple neck surgeries. After that season, he was let go by the Colts and then signed with the Denver Broncos, playing there from 2012 to 2015. He is a son of former NFL quarterback Archie Manning and an elder brother of New York Giants quarterback Eli Manning - two players who were quite successful in their own right. His five NFL MVPs are a league record, he was the MVP of Super Bowl XLI, has been named to 14 Pro Bowls (tied with longtime rival Tom Brady), has thirteen 4,000-yard passing seasons, and is the Indianapolis Colts' all-time leader in passing yards (54,828) and touchdown passes (399). Sports Illustrated named him the NFL Player of the Decade for the 2000s.
Manning played college football for the University of Tennessee, leading the Volunteers to the 1997 SEC Championship in his senior season. However, No. 3 Tennessee lost to the No. 2 Nebraska Cornhuskers 42–17 in the Orange Bowl. Manning was chosen by the Indianapolis Colts with the first overall pick in the 1998 NFL Draft. With Manning at the helm, the Colts returned to a level of success and prestige they had not witnessed since their time in Baltimore with Johnny Unitas. From 1998 to 2010, he led the Colts to eight division titles, two AFC championships, and one Super Bowl championship (Super Bowl XLI) helping to give the team the best regular-season win record of any team in the 2000s. Manning's pre-snap routine earned him the nickname "The Sheriff", and quickly became one of the most recognizable and parodied players in NFL history. Teams led by Manning more often than not used the hurry-up offense in place of the standard huddle, as he barked out plays on the fly.
After the 2010 season, Manning underwent neck surgery to alleviate neck pain and arm weakness he dealt with during the previous few seasons before signing a five-year, $90 million contract extension with the Colts in July. Manning had hoped to play in the 2011 season, but in September he underwent a second, much more serious surgery: a level-one cervical fusion procedure. Manning had never missed an NFL game in his career but was forced to sit out the entire 2011 season and watch his team fall to the bottom of the league standings. He was released by the Colts after the season, as they used their #1 draft pick on fellow generational QB talent Andrew Luck, and after an almost two-week period where he visited with and worked out for several NFL teams, he signed with the Denver Broncos.
Concerns that Manning was past his prime quickly evaporated; Manning won Comeback Player of the Year in 2012, then followed it up with a staggering performance in 2013, setting records for most touchdown passes and passing yards in a single season that still stand today. On October 19, 2014, he broke Brett Favre's record for most career TDs when he threw his 509th touchdown pass (though he's since been passed by Brady and Drew Brees). He missed significant time during a 2015 season in which he began seriously showing the effects of age and injuries, but came back for the playoffs and eventually earned a second title in Super Bowl 50, becoming the then-oldest QB to start and win a Super Bowl and the first to win Super Bowls with more than one team. Manning deflected postgame questions about his playing future, but eventually decided to follow previous Broncos QB John Elway by retiring on top and riding off into the sunset. He was inducted into the Pro Football Hall of Fame in 2021, his first year of eligibility.
In addition to his play on the field, Manning was one of the most popular players off the field as well. He is arguably more famous for the sheer number of endorsements and commercials he filmed for a wide variety of products; even many years into retirement, he continues to regularly show up in new ads that play well outside of the NFL season, usually making some jokes about his voice, the size of his forehead, and his postseason woes.note Sports-commentary comic strip Tank McNamara did a week-long story of Manning being confined to a rehab clinic for his addiction to endorsements - where his need to endorse something became so great that he pleaded with the employees to let him endorse the clinic itself. He's one of the few athletes to host Saturday Night Live (where he was in the Trope Namer sketch for Every Year They Fizzle Out, a comment directed towards... Peyton Manning), made a guest appearance on The Simpsons, was on the final Late Show With David Letterman as one of the celebrity presenters of the show's final Top 10 List. (Manning was Letterman's favorite player for his time with Letterman's hometown Colts.) His voice acting has continued with a significant supporting role in the animated film Ferdinand. He can next be seen in the miniseries The Santa Clauses as himself.
Manning's main focus following his retirement from playing (besides coaching his sons' football teams) has been his production company, fittingly called Omaha Productions. He now hosts the documentary series Peyton's Places for ESPN's streaming service and the game show College Bowl for NBC, co-hosts a simulcast of Monday Night Football with brother Eli and an array of celebrity guest stars, and has produced a number of Places spinoffs with other sports stars along with numerous NFL-related events (including the upcoming retool of their Pro Bowl celebrations).