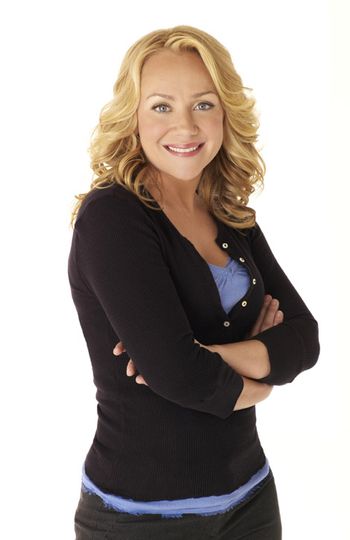 Should we describe Nicole Sullivan here?
"Cha, ya know what? Nuh uh! Yeah, no."
Actually, we should. Nicole Julianne Sullivan (born April 21, 1970 in Manhattan, New York) is an American actor and comedian known for her live-action work on MADtv as the sarcastic Vancome Lady (Sullivan was part of the original cast of MADtv when the show first started in 1995 and stayed on the show until 2001), this sarcasm has carried over to many of her animated characters, most notably Shego in Kim Possible. Can also be heard as Mira Nova in Buzz Lightyear of Star Command, the clone of Joan of Arc in Clone High, Franny in Meet the Robinsons, Louise in Slacker Cats, Supergirl in Super Best Friends Forever and DC Super Hero Girls , Marlene in The Penguins of Madagascar, Cleo the witch on Vampirina , and Drew in The Secret Saturdays. Somewhere in there she played Holly Schumpert on The King of Queens (perhaps her most famous role) and starred in the live-action sitcom Rita Rocks.
On MADtv, her other characters (besides the sarcastic, tastelessly made-up Vancome Lady) were: Amy (a reporter for X News, a news show for Generation-Xers), Latina bimbo Lida (her buddy Melina, was played by Debra Wilson), Antonia (a mentally handicapped girl who always frustrated others, specifically those played by Phil LaMarr and Alex Borstein), Darlene McBride (a politically-incorrect country singer), and Debbie (a member of an anti-racism sing-along group called the E-Racists). Her most popular celebrity impressions included: Britney Spears, Hillary Clinton, Uma Thurman (in the Pulp Fiction parody, Gump Fiction), Sarah Michelle Gellar (in the Buffy the Vampire Slayer parody, Buffy the Umpire Slayer), Justin Timberlake (back when he was in *NSYNC), Emma Buntonnote "Baby Spice" of the 1990s British pop group, the Spice Girls, Lucille Ball (as Lucy Ricardo in three I Love Lucy parodies), Jenna Elfman, and Melanie Griffith.
Other Roles
---