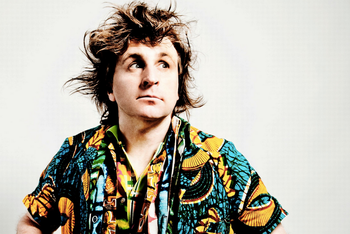 They say that one in seven people are on drugs. Judging by this panel, I'd say it's Milton.
— Andy Parsons
Milton Hywel Jones (born 16 May 1964) is an English comedian, "that bloke with the weird hair and loud shirts on Mock The Week" according to his tour posters. To be a little more precise, he's a stand-up comedian who has appeared on Mock the Week and once on the comedians edition of Pointless. He has also written numerous radio shows such as The Very World of Milton Jones, Thanks A Lot Milton Jones!, Another Case Of Milton Jones and The House of Milton Jones, the last of which spawned a spinoff TV pilot called Milton Jones House Of Rooms.
He has done four stand-up tours - Live Universe Tour - Part 1: Earth, Lion Whisperer, On The Road and Temple Of Daft. He will start his most current tour, Milton Jones is Out There in September 2017.
Milton has been a comedian for over 20 years, and won the Perrier Award in 1996. His career really took off in 2008, when he joined (and later became a regular) on the BBC2 topical panel show Mock the Week.
---
Tropes Associated with Milton Jones:
Running Gag: "My other grandfather..." As of 2020, he's switched to "My other friend..."
Stealth Pun: For some of Milton's gags, he'll trail off before he gets to the punchline.
---