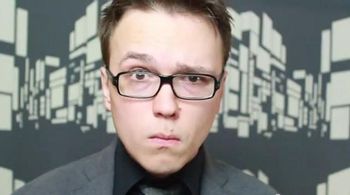 Krzysztof Jan "Kris" Gonciarz, born 19th June 1985, is a Polish
YouTube
personality, writer, director and vlogger. He started writing about video games in 1999 and started making videos in 2008.
He's probably best known in his native country as the host of a comedy Q&A show, Zapytaj Beczkę (Ask Barrel), in which he answers questions asked by his viewers, while annoyed by his brother, Gimbus (also played by Gonciarz).
His other works include Akademia Pieniądza (The Money Academy), a parody of motivational coaches, introducing Krzysztof Kanciarz, a Know-Nothing Know-It-All giving "free advice worth 5000$", vlogs, and numerous travelling videos. As of 2014, he has all but moved to Tokyo.
He also teamed up with a Polish-American, Kasia, as The Uwaga Pies, and makes travelling videos in English.
His main/vlog channel
, the Zapytaj Beczke channel
, TheUwagaPies channel
, Facebook,
Twitter.
Note: all of those (except The Uwaga Pies) are in Polish. Some of the videos on his main channel have English subtitles.
His works provide an example of: