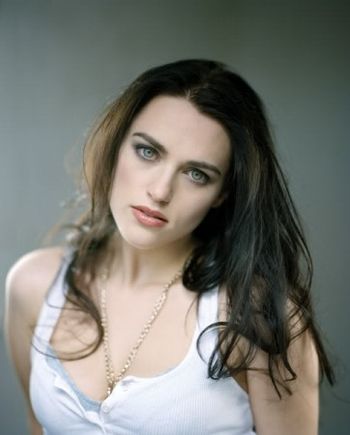 "I wasn't born an actress, but I sure was born dramatic."
Personal quote.
Katherine "Katie" McGrath (born January 1983 in Ashford, Ireland) is an Irish actress best known for playing Morgana in the BBC series Merlin (2008) and Princess Margaret in the 2009 TV docu-drama series The Queen. She has also appeared in The Tudors and the horror film Red Mist (or Freakdog as it was titled in the US) and played one of the main characters in the 2013 NBC adaptation of Dracula. Most recently, she portrayed Lena Luthor, Lex's well-meaning but ethically challenged half-sister on The CW's Supergirl.
Originally she worked behind-the-scenes as a wardrobe assistant on The Tudors. She was then tapped to be an extra in one scene, and... The rest may well be history, depending on how her career goes.
Named one of the 50 Hottest Irish Women by Complex Magazine in March, 2011.
And she really likes Nathan Fillion, really.
---
Her film roles include:
Her television roles include:
Tropes associated with this actress's work include:
---