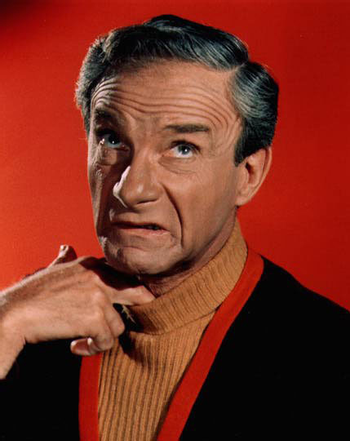 Jonathan Harris (born Jonathan Daniel Charasuchin, November 6, 1914 – November 3, 2002) is best-known for portraying Dr. Zackary Smith in the 1960s sci-fi TV series Lost in Space.
He was also a voice actor in several other works. His voice roles included the robot Lucifer on the original Battlestar Galatica, Manny from A Bug's Life, and Professor Jones from Freakazoid!.
Harris first started acting in several stage plays before eventually performing at a Broadway play in 1942. He was a well-known character actor, appearing in episodes of television shows such as the original run of The Twilight Zone, Get Smart, and Bonanza.
He landed a co-starring role in a TV spin-off of The Third Man and also starred in The Bill Dana Show, which was a spin-off of the show Make Room For Daddy.
Jonathan soon was cast for the role of Dr. Smith on Lost in Space. Smith didn't appear in the original pilot (nor did the Robot) since the show was already in production when he was hired.
The show eventually got cancelled in 1968 after three seasons. Harris continued to make guest appearances in lots of TV shows, including an episode of another Irwin Allen-created show (Land of the Giants), where he played the role of Mr. Piper.
◊
Jonathan Harris died on November 3rd, 2002 (only three days before his 88th birthday) from a blood clot in the heart. His last performance was in an animated short film that wasn't released until 2009.
Tropes associated with this actor include:
---