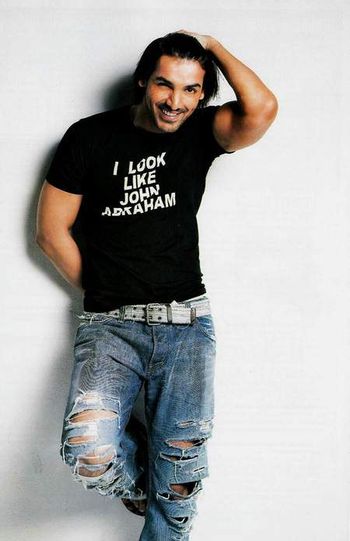 John Abraham (born 17 December 1972) is an Indian film actor who appears in Bollywood movies and a former model. Abraham was born in Mumbai, India, to a Malayali father, who is an architect from Alwaye, Kerala. His mother, Phiroza Irani, is part of Mumbai's Parsi community. Abraham's Parsi name is Farhan while his father, being a Syrian Christian, named him John. He has a younger brother, Alan.
After modeling for numerous advertisements and companies, Abraham made his film debut with Jism (2003), which earned him a Filmfare Best Debut Award nomination. This was followed by his first commercial success, Dhoom (2004). He received two Filmfare nominations, for his negative roles in Dhoom, and then in Zinda (2006). He later appeared in the major critical success, Water (2005). In 2007, he was nominated under the category of Best Supporting Actor at Filmfare for the movie Baabul.
Recently co-starred with Abhishek Bachchan and Priyanka Chopra in Dostana. One of his latest movies is New York, playing one of three students studying at the fictional New York State University whose lives are changed by 9/11.
His background as a model and occasionally goofy film roles means that people are often skeptical about his acting ability, but he is also considered one of the shrewdest businessmen and investors in Bollywood.
---