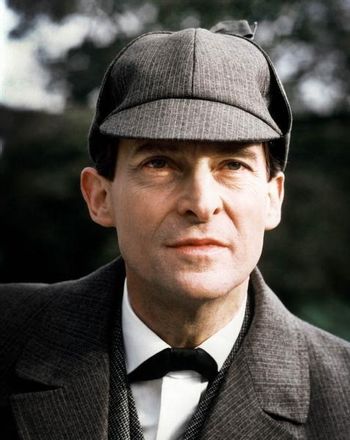 "The provocation with Holmes is the fact that he's described by Doyle as a man without a heart - all brain... and that's very difficult to play, or even indicate."
Jeremy Brett (born Peter Jeremy William Huggins; 3 November 1933 – 12 September 1995) was Sherlock Holmes. Even now, decades later, he is still remembered as the most faithful adaptation of the Great Detective.
Brett was an English actor who appeared on both stage and screen. He worked with Laurence Olivier at the National Theatre and in a film production of The Merchant of Venice, he starred as Audrey Hepburn's brother in War and Peace (1956), he starred as Audrey Hepburn's Love Interest in My Fair Lady, he played d'Artagnan in a television series of The Three Musketeers, he played Basil Hallward in a television series of The Picture of Dorian Gray, but it is for Sherlock Holmes that he will be remembered.
Between 1984 and 1994, Granada produced adaptations of Arthur Conan Doyle's famous stories with Brett in the title role. They were:
Brett and Hardwicke continued their roles on the stage for The Secret of Sherlock Holmes, written by Granada script-writer Jeremy Paul. The play ran from '88 to '89 at the Wyndham Theatre.
Brett saw playing Sherlock Holmes as a challenge and was determined to produce the best portrayal of him that had been seen (his most prized possession was a 77-page book that he compiled himself documenting everything from Holmes's eating habits to the character's eccentric mannerisms). "Some actors fear if they play Sherlock Holmes for a very long run the character will steal their soul, leave no corner for the original inhabitant", he once said, but: "Holmes has become the dark side of the moon for me. He is moody and solitary and underneath I am really sociable and gregarious. It has all got too dangerous". David Burke originally played Dr. Watson but left after the filming of The Final Problem in order to join the Royal Shakespeare Company and spend more time with his family (his wife Anna was also a member of the company). He was replaced, on Burke's own recommendation, with Edward Hardwicke who played him from The Empty House onward. In Brett's opinion, Hardwicke was the nicest man he ever knew.
Unfortunately Brett suffered from manic depression after the death of his wife not long after filming Sherlock Holmes's own faked death in The Final Problem. In an act of incredible bravery, he went public with his condition, urging people to seek help - in fact, one of his last interviews features him talking about his illness and encouraging people to talk to their doctors about it. During the production of the remaining series, Brett's health declined, and he even collapsed on set and had to be admitted to hospital. When he was finally discharged, he was picked up from the hospital by Edward Hardwicke who took him out to lunch.
Not long after filming The Cardboard Box, Jeremy Brett died at the age of sixty-one from heart failure. Edward Hardwicke spoke at his funeral where he called him his "dear friend" and said he was "greatly missed". The New York Times in their report of his death said that "Mr. Brett was regarded as the quintessential Holmes: breathtakingly analytical, given to outrageous disguises and the blackest moods and relentless in his enthusiasm for solving the most intricate crimes."
Even now, he is and will always be Sherlock Holmes.
Tropes relating to Jeremy Brett:
---
But still, the game's afoot for those with ears, attuned to catch the distant view-halloo...