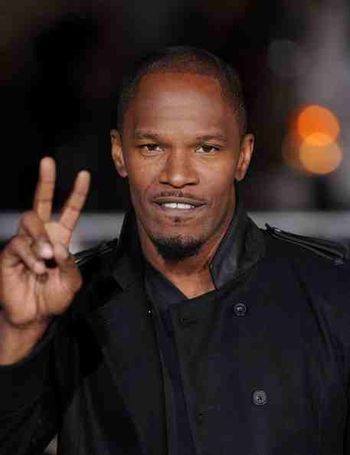 "I try to be as honest and open as I am with everything that I do because it's just, um, It helps me, you know, like whether it's stand up or singing or act. I just try to stay true."
Eric Marlon Bishop (born December 13, 1967 in Terrell, Texas), known professionally as Jamie Foxx, is an American actor, singer, songwriter, and stand-up comedian.
As an actor, his work in the 2004 Ray Charles Biopic Ray earned him the Academy Award and BAFTA Award for Best Actor as well as the Golden Globe Award for Best Actor in a musical or comedy. The same year, he was nominated for the Academy Award for Best Supporting Actor for his role in Collateral.
He is also a Grammy Award-winning musician, producing three albums which have charted highly on the Billboard 200: Unpredictable (2005), which topped the chart, Intuition (2008), and Best Night of My Life (2010).
---
Notable credits:
---
Tropes:
---