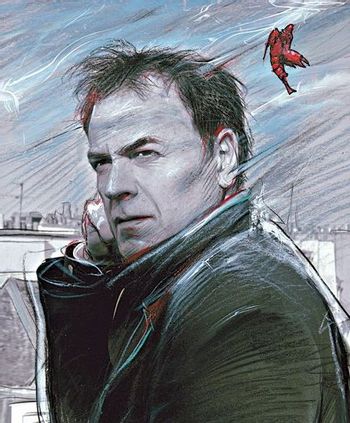 Enes Bilalović - pen name Enki Bilal (born October 7, 1951) is a French-Yugoslavian comics writer and artist, best known for "The Carnival of Immortals", initially intended as a stand-alone album, but whose success would result in two sequels, "The Woman Trap" in 1986 and "Equator Cold" in 1993. The three albums form the Nikopol Trilogy.
On his own, he also wrote and drew The Monster's Tetralogy, the first book of which somehow anticipated 9/11 in 1998... which is the publication date. Keep in mind Enki Bilal often takes three years to finish one single album.
While continuing to work primarily as a graphic artist and illustrator, Bilal has directed three movies, "Bunker Palace Hotel" in 1989 (a parable on the collapse of dictatorships), "Tykho Moon" in 1997, and Immortal (based on the aforementioned "The Carnival of Immortals" and "The Woman Trap") in 2004.
As a bit of trivia, it's been theorised that Viral from Tengen Toppa Gurren Lagann was named after him - "Bilal" and "Viral" would be pronounced the same in Japanese, Viral pilots a mecha called the Enki, and his Leitmotif is called "Nikopol".
Also, good luck finding somebody in his stories with long hair, most of his characters are either bald or with short hair.
---
Bilal's works contain examples of the following tropes:
---