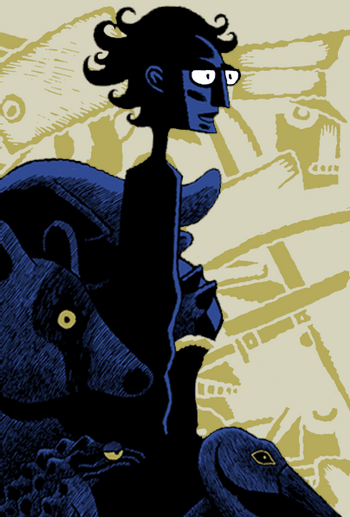 David B is the Pen Name of Pierre-François "David" Beauchard (born 9 February 1959), a graphic artist of the French-Belgian comics school.
After studying at the Ecole Supérieure des Arts Appliqués Duperret in Paris, David B writes a first one-shot album in 1985, Pas de Samba pour Capitaine Tonnerre. His early black and white style is influenced by fellow graphic artists Georges Pichard and Jacques Tardi. In the following years, his works are published in a number of illustrated magazines.
He is among the founders of the independent publishing house L'Association in 1990, which over the following decade will be an incubator of alternative talents. Much of his work in the 1990s revolves around the visual expression of dreams, and is collected in Le Cheval Blême and Les Incidents de la Nuit.
His masterpiece is the six-volume series L'Ascension du Haut Mal (published in the US as Epileptic), an autobiographical recollection of his youth centered on his brother's struggle with epilepsy. Published between 1996 and 2003, it is considered a cult classic of contemporary French-Belgian comics.
He leaves L'Association in 2005, along with most of its founding members. He collaborates on occasion with graphic artists such as Joann Sfar (another former member of L'Association), Christophe Blain and Emmanuel Guibert.
Death is a recurring theme in his works, a legacy of his brother's condition—as a child he viewed epileptic seizures as a "little death". From an interview
:
Children often make up imaginary friends who are friendly, such as heroes, but for me they were ghosts and demons, because that was my frame of reference. I needed friends who existed within that context. My brother's illness threw us into an alternate reality, and that was a problem for society around us, with which we had no way of reasoning, because my brother couldn't get any better. I'd accepted the fact that this was our context and we had to live in it, so we were on the side of the demons, on the side of mystery, on the side of night. It was a life choice.