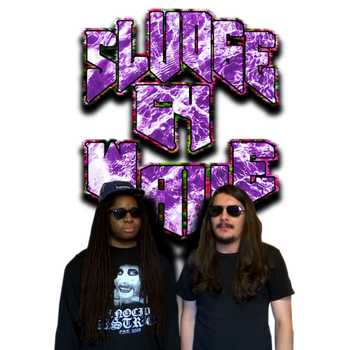 Jared "
Crimewave 420
" Jared known simply as Jared around is a CLASS D super star online, with over 10,000 people who have labeled him as internet famous, he is an active metal musician known to go "hard" and has been a guitarist for both bands Sonata and Navigator in Washington, and Extortionist in Idaho, and is usually active in terms of gaming on his game show Sludgewave 64 created by his friend Calvin that is said to be similar to game grumps but "on crack". Amongst other stuff he was part of problematic dark rap groups in which he somewhat regrets due to moral reformation.
---
*Djent Sound*:
Dreadlock Warrior: If not the most recognized one on the internet, Jared!
Epic Rocking: Jared's famous Emmure video.
Everything Is Online: "Logged in."
Fanart: Even though there is a lot of fan art around of Jared and his friends, one of the most noticeable artists is "yungterra", which created Jared's signature "Muppet Jared" that has become known as a general cartoonish symbol for Jared.
Future Slang: It's lit, HARD, ignorant, Pissin 40s, ZUPTED.
Henshin Hero: DJ Studio Man.
Long-Haired Pretty Boy: Calvin and Jared.
Lovable Nerd: Jake.
Memes: Jared has been popular for the creation of some, and is even said to be the one that has started the "skeleton war", which he regrets to this day.
Mighty Roar: HOO!
Pardon My Klingon: The word "Spode".
Perverse Sexual Lust: Calvin's musical project that makes most of the music used in Sludgewave 64 is named after the Animal Crossing character Isabelle because Calvin has legit a crush on her.
Narcissist: Jared is well known to have embraced his fame and fan art about him.
Secret Character: River that is talked about throughout the show recommending and helping Sludgewave 64 and in general Jared like an invisible hand sent by the secret government, but is never spoken about in full detail. They might even be writing their TV Tropes page without their knowledge.
Sound-Effect Bleep: In Sludgewave 64 guitar solos, metal breakdowns and any other musical sounds included with basic sound effects used in music are known to censorship anything Calvin considers inappropriate for the viewers. This is widely known as one of the most important things that's makes Sludgewave 64 memorable and special.
Sickeningly Sweethearts: Jared with the people he protects.
The Klutz: Jared sometimes accidently drops a gun in the middle of an Emmure show.
The Stoner: Almost everyone close to Jared except Calvin.
Transhuman: Jared is very well known as a cyber-god.
---
Hit a lick.