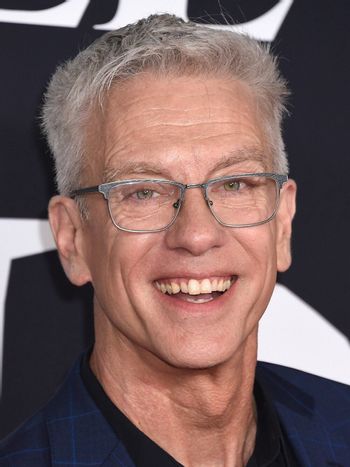 TOOKIE BAH WAH BAH!note LET'S GET STARTED! (also
YAHOO! or COWABUNGA!)
Christopher Michael Sanders (born March 12, 1962) is an American film director, writer, animator, illustrator, and voice actor, noted for his distinctive art style and managing to earn massive success with two of the biggest animation companies today: Disney and DreamWorks Animation. He worked extensively with the former during The Renaissance Age of Animation, and achieved success with directing partner Dean DeBlois on his brainchild, Lilo & Stitch, and has also been the voice of every appearance of Stitch (except in East Asia). In 2006, however, he left the company after being removed as the director of American Dog (which would later become Bolt) and went to work with Disney's greatest rival—DreamWorks—teaming up once again with DeBlois to work on How to Train Your Dragon, his biggest financial and critical success to date. After writing and directing The Croods with Kirk DeMicco and later having its sequel's production canceled (only to be later revived without either man as director), Sanders worked on his first solo and live-action/CGI-animated project, an adaptation of The Call of the Wild, which was produced by 20th Century Studiosnote the first film under that banner after Disney dropped "Fox" from "20th Century Fox" and 3 Arts Entertainment. Due to Disney's acquisition of 21st Century Fox on March 20, 2019, this film also marked Sanders's return to Disney (outside of voice acting as Stitch) after having left the company 13 years prior. However, his return was strictly out of circumstance; his next project is an unannounced animated film for DreamWorks.
You can visit his blog here,
his respective former and current Twitter accounts here
and here,
DeviantArt account here,
Facebook account here,
his YouTube channel here,
and his TikTok account here.
Or just go here
to see his all his personal links.
Productions (with TV Tropes pages) that he worked on or played a role in:
Films
Television
Video games (all as the voice of Stitch)
Theme park attractions
His work provides examples of:
---