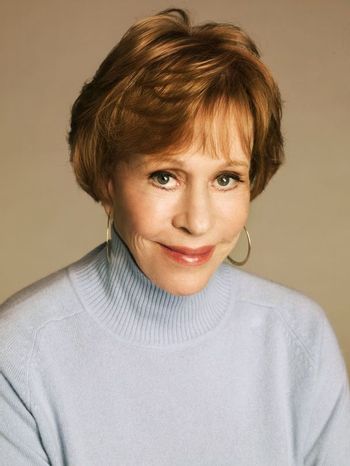 "I'm really not that funny in real life. But I am the best audience one could find. I love to laugh."
Carol Creighton Burnett (born April 26, 1933 in San Antonio, Texas) is an American actress, comedian, singer, voice artist, author, and producer, best known for starring in her eponymous hit variety series from 1967–78, as well as originating the role of Princess Winnifred the Woebegone in the 1959 Broadway production of the musical Once Upon a Mattress.
Her film roles include the villainous Miss Hannigan in the 1982 version of Annie, as well as the voice of the equally villainous Jane Kangaroo in 2008's Horton Hears a Who!.
She has received numerous accolades for her work over the years, including 21 Primetime Emmy Award nominations (winning six), 18 Golden Globe Award nominations (winning six; she's also the namesake and inaugural recipient of the HFPA's honorary Carol Burnett Award), three Grammy Award nominations (winning for the audiobook narration of her 2016 memoir In Such Good Company), two Tony Award nominations (receiving an honorary Tony in 1969), two Peabody Awards, a SAG Life Achievement Award, the Mark Twain Prize for American Humor, and the Presidential Medal of Freedom.
Burnett has been married three times, and had three daughters with her second husband. (Her oldest, the actress and singer Carrie Hamilton, died of cancer-related pneumonia at the age of 38.)
---
Partial filmography:
open/close all folders
Film roles
Television roles
The Jack Benny Program (1 episode, 1962) as herself
The Twilight Zone (episode "Cavender Is Coming", 1962) as Agnes Gerp
The Lucy Show (1966–67) as Carol Bradford
Get Smart (1 episode, 1967) as Ozark Annie
Gomer Pyle, U.S.M.C. (2 episodes, 1967–69) as Cpl./Sgt. Carol Barnes
The Carol Burnett Show (1967–78) as herself (host) and various characters
Sesame Street (5 episodes, 1969–71) as herself
Rowan and Martin's Laugh-In (1 episode, 1972) as herself (guest performer)
The Muppet Show (1 episode, 1980) as herself (special guest star)
Mama's Family (6 episodes, 1983–84) as Eunice Higgins
All My Children (6 episodes, 1983–2011) as Verla Grubbs
Magnum, P.I. (2 episodes, 1984–88) as Susan Johnson
Fresno (1986) as Charlotte Kensington
The Larry Sanders Show (2 episodes, 1992–98) as herself
Evening Shade (1 episode, 1993) as herself
Mad About You (11 episodes, 1996–2019) as Theresa Stemple
Touched by an Angel (1 episode, 1997) as Lillian Bennett
Desperate Housewives (1 episode, 2006) as Eleanor Mason
Law & Order: Special Victims Unit (1 episode, 2009) as Birdie Sulloway
Glee (2 episodes, 2010–15) as Doris Sylvester
Curious George (2013–14) as Great Aunt Sylvia (voice)
Hot in Cleveland (2 episodes, 2013–15) as Penny
Hawaii Five-0 (3 episodes, 2013–16) as Deb McGarrett
Signed, Sealed, Delivered (1 episode, 2014) as Ardis Paine
Julie's Greenroom (1 episode, 2017) as Mrs. Edna Brightful
Angie Tribeca (1 episode, 2018) as President Priscilla Filcox
Forky Asks a Question (1 episode, 2019) as Chairol Burnett (voice)
Scooby-Doo and Guess Who? (1 episode, 2021) as herself (voice)
Trolls: Holiday in Harmony as Windbreeze (voice)
Better Call Saul (4 episodes, 2022) as Marion
---
Tropes related to her career:
---
"I'm so glad we had this time together
Just to have a laugh or sing a song
Seems we just get started and before you know it
Comes the time we have to say, 'So long.'"
---