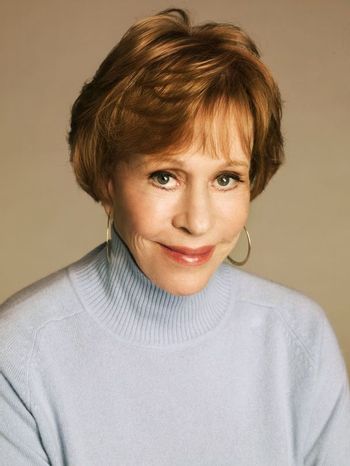 "I'm really not that funny in real life. But I am the best audience one could find. I love to laugh."
Carol Creighton Burnett (born April 26, 1933) is an American actress, comedian, singer, voice artist, author, and producer, best known for starring in her eponymous variety series from 1967–78, as well as for originating the role of Princess Winnifred the Woebegone in the 1959 Broadway production of the musical Once Upon a Mattress.
Her film roles include the villainous Miss Hannigan in the 1982 version of Annie, as well as the voice of equally villainous Jane Kangaroo in 2008's Horton Hears a Who!.
She has received numerous accolades for her work over the years, including 21 Primetime Emmy Award nominations (winning six), three Grammy Award nominations (winning for the audiobook narration of her 2016 memoir In Such Good Company), two Tony Award nominations (receiving an honorary Tony in 1969), 18 Golden Globe Award nominations (winning six; she's also the namesake and first recipient of the HFPA's honorary Carol Burnett Award), two Peabody Awards, a SAG Life Achievement Award, the Mark Twain Prize for American Humor, and the Presidential Medal of Freedom.
Burnett has been married three times, and had three daughters with her second husband. (Her oldest, the actress and singer Carrie Hamilton, died of cancer-related pneumonia at the age of 38.)
---
Partial filmography:
---
Tropes related to her career:
---
"I'm so glad we had this time together
Just to have a laugh or sing a song
Seems we just get started and before you know it
Comes the time we have to say, 'So long.'"
---