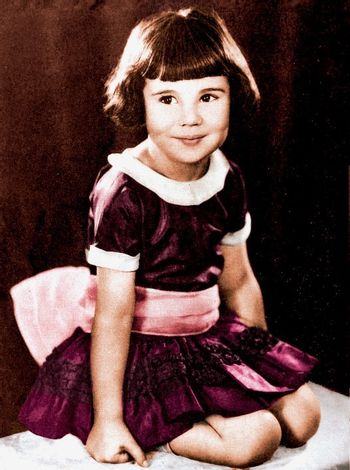 Before
Shirley Temple
made it big on the box office, there was one little tyke besides
Jackie Coogan
who earned quite a reputation during
The Silent Age of Hollywood
.
Diana Serra Cary, née Peggy-Jean Montgomery (29 October 1918—24 February 2020), was one of three major American child stars of the Silent Film era during The Roaring '20s, alongside Coogan and Marie Osborne Yeats, aka Baby Marie. She was also one of the last surviving actors of that era until her passing.
Cary, then known as Baby Peggy, starred in over 150 short films, after a chance encounter with director Fred Fishbach when she, her mother and a film-extra friend visited Century Studios, the latter known and described by Cary in her memoir to be a ragtag production outfit
based at a "very large, very old, fast-disintegrating" studio. Most of the early shorts were in the form of parody films satirizing silent-era actors and actresses of the time like Rudolph Valentino and Pola Negri. Peggy later worked for Universal, where she appeared in dramas like The Darling of New York and the first feature-length adaptation of Captain January, the latter of which inspired a remake starring Shirley Temple. These films were billed as "Universal Jewels," owing to Peggy's star status at the time and the lavish production values given to them.
During her heyday, Montgomery earned over a million dollars for her films, earning her the nickname "The Million Dollar Baby", and serving as an inspiration for Judy Garland to pursue an acting career, but mismanagement of her finances, along with her parents holding a tight rein on her and not accounting for her well-being, took a toll on Montgomery's career as a child star which tailed off in 1924, culminating in a stint in vaudeville and a short-lived comeback as a teenage actress during the early 1930s. Disenchanted with show business and following The Great Depression, she retired in 1938 and later adopted the name Diana Serra Cary, eventually finding success as a professional book seller, historian, and author.
Cary recently penned and released her first historical novel The Drowning of the Moon, a tale of a silver mining family in 18th century Mexico.
Cary passed away at a ripe old age of 101 in her home in Gustine, California.
---
Baby Peggy films listed on this wiki include:
This actress provides examples of:
---