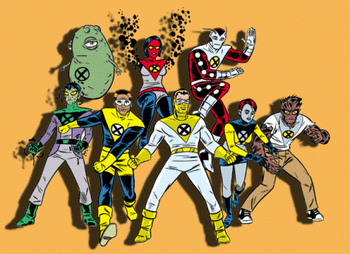 "We're filthy, ungodly mutants. But we're
their
filthy, ungodly mutants."
— Guy Smith
X-Statix was a Marvel Comics series spinning off from Peter Milligan and Mike Allred's popular run on X-Force, which reimagined the violent mutant squad as Reality TV stars performing superhero missions for ratings.
Picking up several weeks after the death of U-Go Girl, the series follows the team's attempt to rebuild itself under the leadership of Spike Freeman, now calling themselves X-Statix after refusing to pay royalties to the founding members of X-Force to use their name. Later arcs dealt with Mister Sensitive's increasing disillusionment with being a super-celebrity, Vivisector's ill-advised efforts to bring his feral powers under control, and Venus Dee Milo's search for her long-lost family, among other stories.
The series became known for its large cast and famously rapid turnover of characters, being a satiric superhero saga on the level of Garth Ennis where most (if not all) of them are second-tier celebrity wannabes only in it for fame, fortune, and kicks. X-Statix was eventually canceled after twenty-six issues, ending with the entire team getting killed off. (Many of them would later come back anyway.) After its cancelation, a spinoff mini-series starring team member Dead Girl was published, satirizing the cyclical nature of superhero resurrections with Doctor Strange in tow.
In 2019, the team (as well as original creators Milligan & Allred) returned for a one-shot —Giant-Size X-Statix— wherein U-Go Girl's daughter inherits her late mother's mutation, inadvertently leading to the reunion of the team. The issue also served as a backdoor pilot for X-Cellent, a 2022 Sequel Series.
---
This series contains examples of:
---